'Passengers' Trailer: Chris Pratt And Jennifer Lawrence Go To Space, Fall In Love, Have An Adventure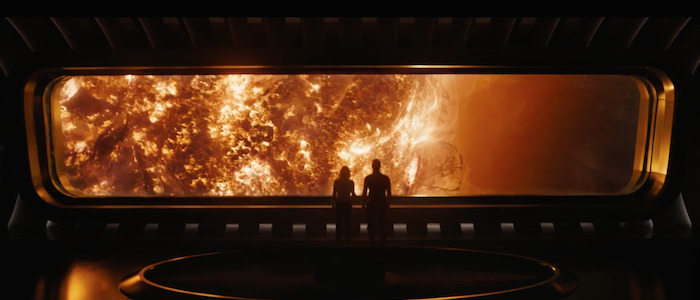 On paper, Passengers feels genetically modified to make all of the money in the world. It's an action-packed science fiction spectacle that is also an intriguing mystery that is also romantic tale of (literally?) star-crossed lovers that also happens to star Jennifer Lawrence and Chris Pratt, two of the most instantly likable people being filmed by cameras today. Based purely on its concept (and on the fact that Jon Spaihts' screenplay was garnering acclaim for years before it was produced), the new film from director Morten Tyldum made our top 10 most anticipated movies of the fall.
Now that the first trailer has arrived, will I regret fighting for it to be ranked so high?
The short answer: not yet.
There's a lot going on in the Passengers trailer, some of it silly and some of it awesome, but it remains one of the films I'm looking forward to the most as we charge into the final stretch of 2016. For better or worse, what's on display in this footage reminds me a great deal of James Cameron's Titanic: two very appealing (and let's face it, sexy as hell) actors fall in love in front of a lot of fancy visual effects, finding their new relationship put to the test by all kinds of danger. There is also Michael Sheen as a robot bartender, which is the kind of thing that makes me yell "One ticket sold!" at my computer screen.
The core plot of Passengers is fairly simple. Two (ridiculously attractive) passengers on board a gigantic spaceship wake up from their hibernation 90 years from their destination. With nothing better to do, they go on dates and explore a meticulously designed ship and, of course, save the rest of their sleeping shipmates from disaster.
Passengers is the latest film from Morten Tyldum, whose The Imitation Game was an awards season favorite a few years ago despite not being particularly memorable. However, his other work (particular the fiendish black comedy Headhunters) has me interested in what he does with this material. I feel like I've been waiting for an unabashedly romantic science fiction movie like this for far too long. I'm allowing myself to get my hopes up for this one.Passengers opens on December 21, 2016. Here's the official synopsis:
Jennifer Lawrence and Chris Pratt are two passengers onboard a spaceship transporting them to a new life on another planet. The trip takes a deadly turn when their hibernation pods mysteriously wake them 90 years before they reach their destination. As Jim and Aurora try to unravel the mystery behind the malfunction, they begin to fall for each other, unable to deny their intense attraction... only to be threatened by the imminent collapse of the ship and the discovery of the truth behind why they woke up.