'Passengers' Trailer Teaser: A Brief Preview Of The Chris Pratt And Jennifer Lawrence Sci-Fi Romance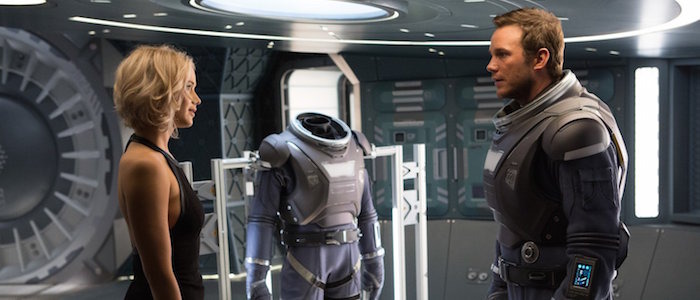 We've seen trailers for most of the wide releases coming out this Christmas, including Assassin's Creed, Gold, Collateral Beauty, Why Him?, and of course Rogue One: A Star Wars Story. One of the films we've yet to see a trailer for is director Morten Tyldum's (The Imitation Game) sci-fi romance Passengers, but that'll change tomorrow.
Below, watch the Passengers trailer teaser.
Jim (Chris Pratt) and Aurora (Jennifer Lawrence) are all alone on a colony ship full of thousands of people in a cryogenic sleep. Due to a system malfunction, they woke up 90 years too early, and they are destined to spend the rest of their lives on a ship that has everything they need. After the two begin falling in love, they realize they're the only ones who can save the ship and their fellow passengers from an unknown threat. The Jon Spaihts-scripted film co-stars Michael Sheen and Laurence Fishburne.
Passengers Trailer Teaser
The trailer teaser for Passengers is almost laughably brief, only showing a few shots from tomorrow's full-length trailer (Source: Twitter):
Tomorrow, every moment counts. Don't miss #JenniferLawrence and #ChrisPratt in the full @PassengersMovie trailer. pic.twitter.com/c9EOfitMZL

— Sony Pictures (@SonyPictures) September 19, 2016
It's a trailer teaser, so it was kind of a given we'd see little more than the faces of the film's charismatic stars. Pratt and Lawrence are probably the main selling point of this original sci-fi project, which was once set to star Keanu Reeves and Reese Witherspoon. For whatever reason, The Weinstein Company didn't make the film with the two of them (or Rachel McAdams), and the project ended up at Sony.
Since making the 2007 Blacklist, Spaiht's acclaimed script has undergone some changes. The first act, for example, is slightly different now. Initially, Pratt's character woke Aurora up, but that's not the setup of Passengers anymore. In the film, they're both affected by the ship's malfunction. We'll soon see how else Spaiht's script might've evolved, but in the meantime, we have a trailer for the next film from the director of Headhunters to look forward to seeing tomorrow.
Here's the official synopsis:
On a routine journey through space to a new home, two passengers, sleeping in suspended animation, are awakened 90 years too early when their ship malfunctions. As Jim (Chris Pratt) and Aurora (Jennifer Lawrence) face living the rest of their lives on board, with every luxury they could ever ask for, they begin to fall for each other, unable to deny their intense attraction... until they discover the ship is in grave danger. With the lives of 5000 sleeping passengers at stake, only Jim and Aurora can save them all.
Passengers opens in theaters December 21st.