Cameron Crowe's 'Roadies' Cancelled At Showtime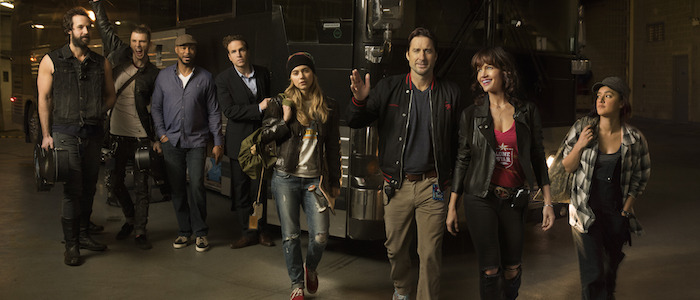 Roadies has reached the end of its road. Showtime has officially cancelled the Cameron Crowe-created dramedy, which starred Luke Wilson and Carla Gugino as crew members for a touring band. In an official statement, Crowe thanked Showtime and executive producer J.J. Abrams for the "life-changing experience" of making the show. 
Crowe confirmed the Roadies cancellation in a blog post, which you can read in full here:
Thanks to Showtime and J.J. Abrams for the opportunity to make the one and only season of "Roadies." My mind is still spinning from the giddy highs of working with this epic cast and crew. Though we could tell a thousand more stories, this run ends with a complete ten-hour tale of music and love. Like a song that slips under your skin, or a lyric that keeps speaking to you, we hope the spell of "Roadies" lingers. It was life-changing experience for all of us.
He also shared a video of the cast and crew, writing, "Here's a little glimpse of the last night of filming. This is what every day felt like."
Roadies premiered to much fanfare in June. It was first Crowe's first major TV project and featured a promising cast including Wilson, Gugino, Imogen Poots, Rafe Spall, and Keisha Castle-Hughes. But its performance was shaky, garnering mixed reviews and soft ratings. In August, just as Roadies was nearing its first (and now only) season, Showtime CEO David Nevins praised the show but admitted, "it hasn't caught on big."
It's been a rough year for music shows. In June HBO cancelled its freshman drama Vinyl, after first renewing it in February, and just last week FX announced the end of Sex&Drugs&Rock&Roll after two seasons. On the bright side, there's still The Get Down, HBO's 1970s hip-hop drama that debuted in August.