'A Town Called Panic: Double Fun' Trailer: One Of The Strangest (And Best) Animated Movies Ever Gets A Follow-Up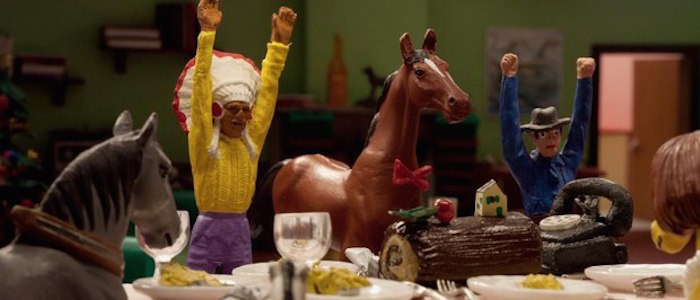 We may receive a commission on purchases made from links.
When I first sat down to watch A Town Called Panic a few years ago, I knew that it was the feature film adaptation of a well-liked series of Belgian stop-motion animated comedy shorts and nothing more. So I spent the next 75 minutes being blown away by this endlessly inventive, hilarious, and surreal thing that honestly felt like it had to right to exist. Here was a feature film starring a crudely animated plastic horse (named Horse) and his crudely animated buddies (Cowboy and Indian) that managed to squeeze a dozen charming and/or crazy gags into each minute of screen time, using stream-of-consciousness storytelling to barrel from one subplot to another at such a pace that you never realize that there's not plot to speak of. A Town Called Panic begins as one movie and ends as a completely different movie and you have no idea how you got there. It's sublime.
Now, seven years later, a sequel-of-sorts is here in the form of A Town Called Panic: Double Fun, which has unveiled a new trailer.
Heres's the A Town Called Panic Double Fun trailer:
To be perfectly clear, A Town Called Panic: Double Fun isn't an actual feature film. It's actually two short films, Christmas Panic and Back to School Panic, packaged together for a one-day screening on September 24, 2016 as part of Art House Theater Day. The trailer itself is only okay – this is the kind of comedy where the gags build on top of one another in satisfying ways that cannot be glimpsed in a quick preview – but it's enough to make me thoroughly irritated that I'm probably going to miss this in theaters. Also, I'll say this much: hearing these characters dubbed into English is truly strange after only knowing them from their original French voices.
Like the first movie and the original shorts, A Town Called Panic: Double Fun is directed by Vincent Patar and Stéphane Aubier, whose Ernest & Celestine was nominated for Best Animated Film at the Academy Awards a few years back. To see if this will be playing in a theater near you, head over to the official Art House Theater Day website. If you can't find a theater, know that the original movie is currently streaming on Amazon for Prime subscribers.
Here's the official synopsis for this double feature:
Take another trip to A Town Called Panic, with two award-winning new specials from the directors of the zany feature film and the Academy Award®-nominated Ernest & Celestine, in theaters on September 24 for one day only!
With disarming wit and hilarious visuals, A Town Called Panic: Double Fun revels in the simple setup of three plasticine toys sent on increasingly surreal and freewheeling adventures. Cowboy and Indian are always up to some harebrained scheme, with Horse left to clean up the mess. In Christmas Panic, their out-of-control antics lead Horse to call Santa and cancel the presents. But the boys figure they can still save Christmas... if they break into their neighbor's house to steal his yule log! In Back to School Panic, a class assignment yields a special prize, but only Pig knows the answer. Cowboy and Indian use a special shrinking potion to sneak into Pig's brain, where they discover a sodium-packed world of pig cops riding in bacon cars and sausage cycles.
These new short films continue the brilliant, over-the-top visual inventiveness that has given the series a dedicated cult following, with a classic slapstick comedy sensibility that is perfect for all ages. This special Art House Theater Day release continues the fun with an intermission featuring two classic A Town Called Panic shorts, Lisa & Jan and Cow-Hulk, where ill-behaved European backpackers and an alien microbe cause even more mayhem!