'Bastards' Trailer: Owen Wilson And Ed Helms Have Daddy Issues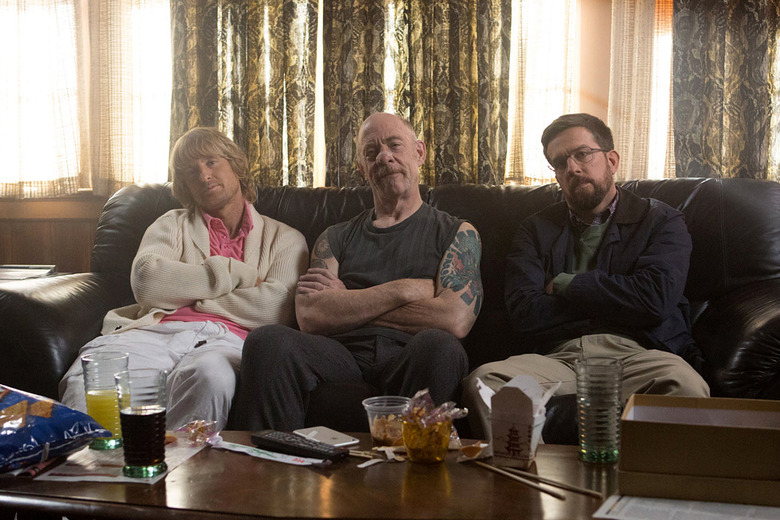 You may not know the name Lawrence Sher, but you've almost definitely seen his work. He's the cinematographer behind the Hangover films, as well as Garden State, Due Date, and the recent War Dogs. Now he's stepping up to make his directorial debut with Bastards.
Owen Wilson and Ed Helms lead the comedy as twins who've spent their lives believing their father died when they were young. But when their mother (Glenn Close) reveals she doesn't know who their real dad is, the brothers set out to find the truth about their past. J.K. Simmons and Terry Bradshaw (as himself) are among the candidates they consider, and Katt Williams, June Squibb, Kate Aselton, and Ving Rhames also star.
Watch the Bastards trailer below.
This trailer has a lot of fun with overly graphic decisions of Close's sex appeal, delivered with relish by Bradshaw and Rhames, but I hope their dad turns out to be Simmons. He's great at playing terrifying, and seems like just the guy to get these two knuckleheads in line.
Bastards arrives in theaters January 27.
Ed Helms ("The Hangover" films) and Owen Wilson ("The Grand Budapest Hotel," upcoming "Zoolander 2") star in Alcon Entertainment's comedy "Bastards," under the direction of Lawrence Sher ("The Hangover" films). The film marks the directorial debut of the veteran cinematographer.
Helms and Wilson play Peter and Kyle Reynolds, two brothers whose eccentric mother (Glenn Close) raised them to believe their father had died when they were young. When they discover this to be a lie, they set out to find their real father, learning more about their mother than they probably ever wanted to know.
Oscar nominee Glenn Close ("Albert Nobbs," "Guardians of the Galaxy") stars as the twins' mother, Helen, and Academy Award winner J.K. Simmons ("Whiplash"), and NFL Hall of Fame quarterback-turned-actor Terry Bradshaw ("Failure to Launch") join the cast as potential father figures.
Rounding out the cast are comedian Katt Williams, Oscar nominee June Squibb ("Nebraska"), Kate Aselton (TV's "The League"), and Ving Rhames (the "Mission Impossible" films).