'Christine' Trailer: Rebecca Hall Plays Christine Chubbuck In Antonio Campos' New Film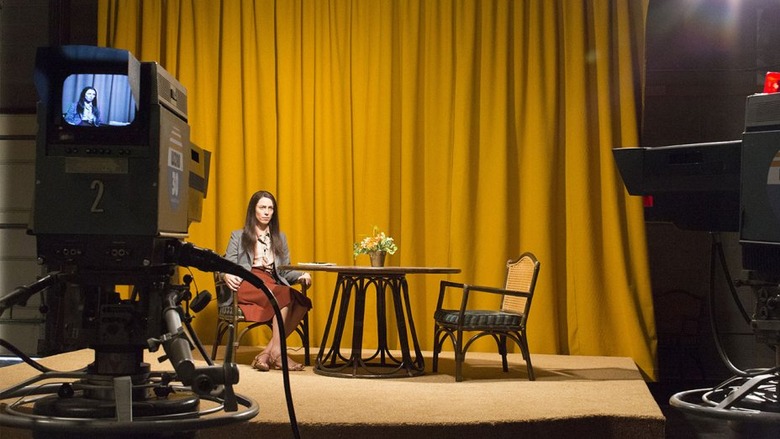 Afterschool director Antonio Campos follows up his unnervingly hypnotic film Simon Killer with Christine. Campo's third feature premiered at the Sundance Film Festival earlier this year, where it was praised as a brutal, intimate character study with a tremendous performance from Rebecca Hall (The Gift) as Christine Chubbuck, a reporter who committed suicide on the air in 1974. The independent drama, which co-stars Michael C. Hall (Cold in July) and Tracy Letts (Indignation), was sold to The Orchard, and they're releasing it into theaters next month.
Below, watch the Christine trailer.
Christine was one of the two films at Sundance this year about Christine Chubbuck. The other title was Kate Plays Christine, Robert Greene's doc that follows actress Kate Lyn Sheil as she prepares to play Chubbuck in a soap opera-style version of the story. That film was also embraced by critics at Sundance, but from the sound of it, the two movies couldn't be more different.
Christine Trailer
Here's the Christine trailer:
The music playing brings a haunting quality to the trailer, especially whenever Rebecca Hall is shown isolated, silent, or on the verge of a breaking point. Antonio Campos is a filmmaker who knows how to dig under an audience's skin, making him more than suitable for this material. You don't see anything explicitly horrific happen in this trailer, and yet it's still chilling to watch. Based on the early reviews and this intense trailer, Campos was the right director to tell Christine Chubbuck's story.
Here's the official synopsis:
Rebecca Hall stars in director Antonio Campos' third feature film, CHRISTINE, the story of a woman who finds herself caught in the crosshairs of a spiraling personal life and career crisis. Christine, always the smartest person in the room at her local Sarasota, Florida news station, feels like she is destined for bigger things and is relentless in her pursuit of an on-air position in a larger market. As an aspiring newswoman with an eye for nuance and an interest in social justice, she finds herself constantly butting heads with her boss (Tracy Letts), who pushes for juicier stories that will drive up ratings. Plagued by self-doubt and a tumultuous home life, Christine's diminishing hope begins to rise when an on-air co-worker (Michael C. Hall) initiates a friendship which ultimately becomes yet another unrequited love. Disillusioned as her world continues to close in on her, Christine takes a dark and surprising turn.
Christine opens in theaters October 14th.