Incredible Star Wars Concept Art: The Winners Of ILM's Art Department Challenge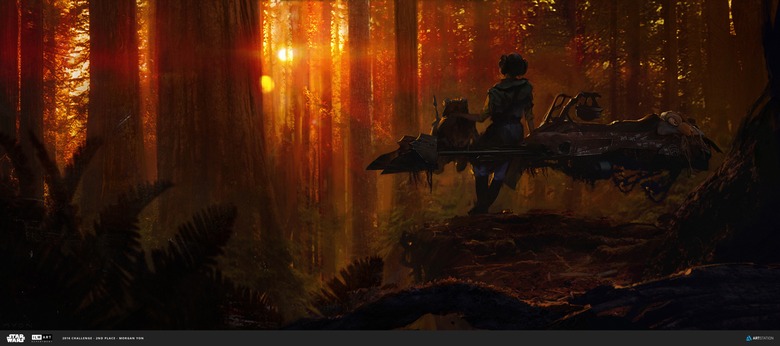 Industrial Light & Magic, Wacom and ArtStation have teamed up to give thousands of artists the opportunity to possibly work as a concept artist in the world of Star Wars with the ILM Art Department. The winners have been chosen and the resulting Star Wars concept art is both incredible and beautiful. Hit the jump to check it out.
The contest started with 3,888 entrants, which were narrowed down through a series of challenges:
"The Moment": artists were tasked with creating two emotive still images that tell a cinematic story – within the world of Star Wars Episodes IV – VI, using only existing Star Wars worlds, vehicles, creatures and characters to create a new story moment.
"The Ride": artists had to design two new Star Wars vehicles within the aesthetic of Episodes IV – VI, placed within the context of a story and an environment.
"The Job": artists were put through a simulation of working as a concept artist in a production environment for four weeks, working through 6 different phases of a project. Only 224 artists made it to this final phase. They were tasked with a "difficult series of challenges tested artists with short deadlines, changing briefs, and surprise Director changes to simulate the experience of a dynamic production environment."
After three weeks of back to back challenges, 16 Art Directors from ILM judged the results to narrow the field down to eight finalists: Mario Alberti, Morgan Yon, Fred Palacio, Fan Gao, John Grello, Jesus Conde, Mack Sztaba, Igor Bulygin, Romain D'escienne, Justin Dring and Krzysztof Bielenin.
Star Wars Concept Art From The Challenge
Lets take a look at some of the winners from this contest. Here are my favorite pieces:
I think my favorite of the bunch is Morgan Yon, who did not only the header image on this story but did the first three images in the gallery above. I'm actually going to make one of these images my computer desktop background.
They also released this great 5-minute video that explains what it is like to be a concept artist at Industrial Light & Magic:
And here is the winners announcement:
Check out all of the art and find out more information on the ILM Art Department Challenge website.