'Nocturnal Animals' Teaser Trailer: Amy Adams & Jake Gyllenhaal Lead Tom Ford's Tale Of Love & Revenge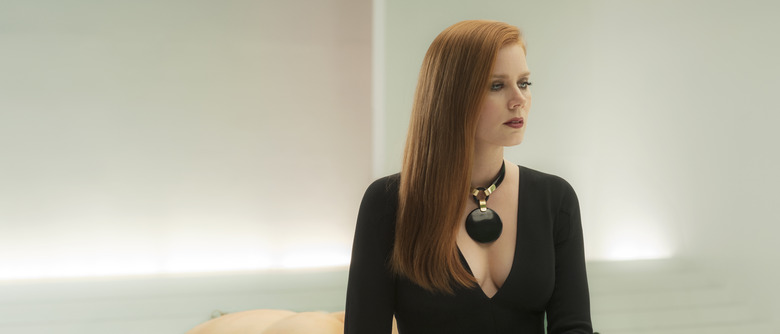 The fall festivals have yielded a bounty of excellent films, and one of the most talked-about right now is Nocturnal Animals. The second feature from fashion designer turned filmmaker Tom Ford stars Amy Adams and Jake Gyllenhaal in an unusual, engaging, and drop-dead gorgeous tale of love and revenge.
Nocturnal Animals is actually two narratives braided together. In one, Susan (Adams) receives a manuscript for a novel by her ex-husband Edward. The two have long been estranged following an unforgivable betrayal on her part, but the book has her reflecting upon their history together. The other is the story laid out in Edward's book, following a father, Tony (Gyllenhaal), whose family is brutally assaulted on a deserted road one night.
Watch the Nocturnal Animals teaser trailer below.
I caught Nocturnal Animals at TIFF, and while I ultimately found it to be more style than substance, the style is really, really great. Ford has an eye for beauty, and his new movie looks downright stunning. Even if it does kinda look like a Tom Ford ad much of the time. (There are several shots of Adams that I could swear I've seen in ads advertising Tom Ford Eyewear at my optometrist's office.)
Plus, it's got a fantastic ensemble cast. In addition to the reliably wonderful Adams and Gyllenhaal, Nocturnal Animals features some real scene-stealers in the form of Michael Shannon as a laconic Texas lawman who gets involved in Tony's case, and Aaron Taylor-Johnson as the brutish perpetrator, plus brief but memorable cameos from Laura Linney, Andrea Riseborough, Michael Sheen, Armie Hammer, and more.
Nocturnal Animals arrives November 18.
From writer/director Tom Ford comes a haunting romantic thriller of shocking intimacy and gripping tension that explores the thin lines between love and cruelty, and revenge and redemption. Academy Award nominees Amy Adams and Jake Gyllenhaal star as a divorced couple discovering dark truths about each other and themselves in "Nocturnal Animals."