'Alita: Battle Angel' Casts Geek Staple Jackie Earle Haley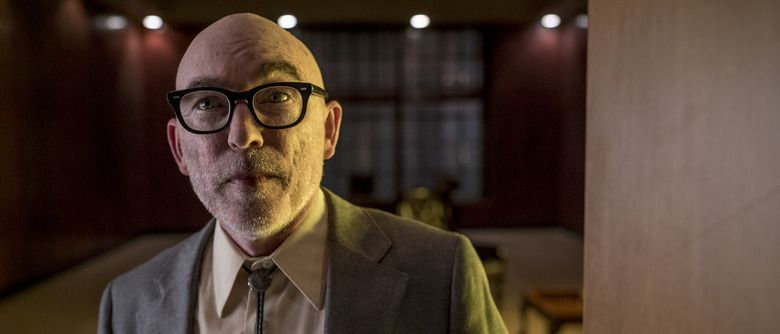 If Jackie Earle Haley has some kind of geek property bingo card, he's surely won several times over by now. The star of Watchmen, AMC's Preacher, Amazon's The Tick pilot, and the upcoming The Dark Tower, has now signed on for Alita: Battle Angel, the sci-fi manga adaptation being directed by Robert Rodriguez for producer James Cameron. He joins Rosa Salazar and Christoph Waltz. 
Based on Yukito Kishiro's 1990s manga series and set in the 26th century, Alita is billed as an action-adventure story with "themes of self-discovery and the search for love." The title refers to the lead character, a female cyborg (Salazar) who wakes up in a scrapyard with no memory of her past life. She puts her extensive martial arts skills to use as a bounty hunter while also searching for clues about her own past.
Waltz was cast last month as Doctor Dyson Ido, the cybersurgeon who finds Alita and later becomes her mentor. Details on Haley's role remain murky, but The Hollywood Reporter's sources suggest he could be playing "a monstrous cyborg in a villain role that will call for plenty of CG and greenscreen."
Haley has become a go-to actor for geek-friendly properties looking to cast creepy sorts. He's played Rorschach in Watchmen and Freddy Kruger in the recent A Nightmare on Elm Street remake, had a recurring role in AMC's Preacher as Odin Quincannon, appeared in the first episode of Amazon's revived The Tick as The Terror. Next year he'll be seen in The Dark Tower as Sayre, yet another villain. Haley's recent non-genre creds include this fall's The Birth of a Nation.
Alita: Battle Angel was in development for several years but gained serious momentum last year when Rodriguez took over at the helm. Cameron, who had originally been planning to direct the project himself, remains on board as a writer and producer. As of now, the big-budget sci-fi project is looking to start shooting this October in Austin, so expect to hear more casting updates soon. The film is scheduled for release on July 20, 2018.