Joe Dante Could Have Directed A Batman Movie With John Lithgow As The Joker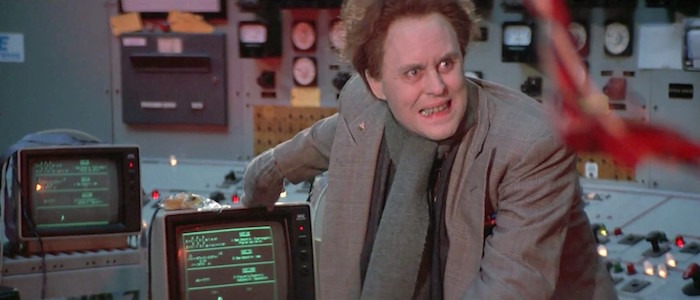 Tim Burton's Batman shook the pop culture landscape in some pretty profound ways when it first arrived back in 1989. Burton transformed into a go-to blockbuster guy. Michael Keaton proved himself to be more than just a comedian. Jack Nicholson became absurdly wealthy. And perhaps most importantly, millions of people around the world willingly paid hard-earned cash money to see a superhero movie, which wasn't exactly a healthy genre at the time.
But that version of the film only came about after nearly a decade of development, with many different directors, writers, and actors brushing against the project. One of those directors was Joe Dante, and he wanted to cast John Lithgow as the Joker.
Dante is, of course, the director B-movie gems like 1978's Piranha and 1981's The Howling, but it was 1984's Gremlins that put him into proximity with the Dark Knight. At the time, Warner Bros. was working from a screenplay by Tom Mankiewicz (who did uncredited work on Richard Donner's Superman movies), and it was very different form the version that would come together several years later. Speaking with Psychotronic Cinema, Dante explained that he wanted to cast Lithgow as the Joker, but it was this character that also led him to drop the film:
I wanted to hire John Lithgow for that part [of the Joker] because I had met him on The Twilight Zone movie. And for whatever reason, I started to gravitate more towards The Joker than towards Batman. And I actually woke up one night and I said to myself, 'I can't do this movie—I'm more interested in The Joker than I am in Batman, and that's not the way it should be.' I think I was not the right guy to do the movie.
Interestingly, Tim Burton's Batman is also more interested in the Joker than it is in the Caped Crusader himself. It just seems like that wasn't as much of concern for Burton.
At this time, Lithgow was a two-time Oscar nominee for The World According to Garp and Terms of Endearment, so it's not like he was small potatoes (although he definitely lacked the star power of Jack Nicholson). In retrospect, it's easy to imagine Lithgow killing it with this role. He's an incredible comic presence who could have captured the playful side of Batman's arch-nemesis, but his terrifying work in the fourth season of Dexter is proof that he could have given us a villain worthy of nightmares. As far as "What Could Have Been" casting stories go, this is a great one.
Thirty years later, Dante doesn't sound too beat up about never making this movie:
I don't regret not doing Batman, in the sense that I'm not sure what it would have ended up being like. But I certainly can't say it was a major career-booster, my decision not to make it.
Anyway, Dante is a tremendous raconteur and the entire interview linked above is worth your time if you enjoy good things.