'Bloodline' Will End After Season Three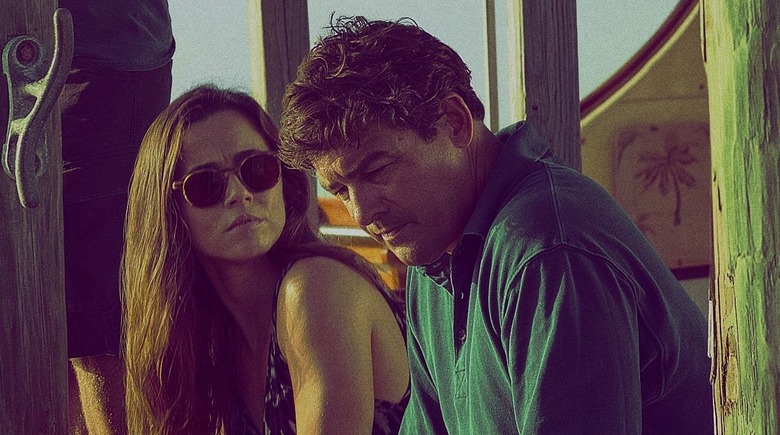 This news is unfortunate. Back in July, Netflix ordered a third season of Bloodline, but that third season will also be the last we see of the deeply troubled Rayburn family. The streaming service has decided to end the series, despite creators and executive producers Todd A. Kessler, Glenn Kessler, and Daniel Zelman's hope to make five or six seasons of the drama.
Below, learn more about the Bloodline cancellation.
The Hollywood Reporter broke the story, writing that Netflix informed Sony season three would be last season of Bloodline. The series stars Kyle Chandler, Sissy Spacek, Linda Cardellini, Norbert Leo Butz, and Ben Mendelsohn, and all of those actors are confirmed to return for the third and final chapter. There's no word if Andrea Riseborough and John Leguizamo are coming back, but based on how season two wrapped up, it would be odd if they didn't return.
In a statement to TV Line, Netflix's Vice President of original content, Cindy Holland, expressed her gratitude for all the hard work that went into making the show:
Bloodline season three will be the show's final season. Todd A. Kessler, Daniel Zelman and Glenn Kessler (KZK) are thoughtful and visionary storytellers, who lead a prestigious cast, that includes Kyle Chandler and Ben Mendelsohn, who have both garnered two Emmy nominations for their roles on the series. Together, with our collaborative partners at Sony Pictures Television, they created a seductive show that Netflix viewers worldwide love and continue to discover. We are looking forward to the exciting climax KZK have in store for the series conclusion in May 2017.
Season two of Bloodline ended with more than a few questions, which, according to THR, possibly could've gone unanswered. Apparently, the show got pricier to make after Florida cut its entertainment tax incentives program, which maybe had something to do with Netflix ordering 10 episodes instead of 13 for season three, but that's purely speculation.
Before this news, Zelman told THR they had about five or six seasons worth of material in mind:
We're doing a TV series, so even in our own mind, we're asking ourselves, 'Does this series have seasons in it?' When we pitched it and we thought about it, we were thinking five to six seasons down the line because we wanted to make sure it could hold that much material. So we certainly have ideas for where everything could go and hopefully where everything will go.
Some fans felt Bloodline began losing some steam in second two, but it pushed the Rayburn family, especially John, into some new corners. The series brought aboard some new antagonists that kept the series exciting and dramatic after it lost, in some way, its most pivotal character. Season two did run into some trouble early on without one of its strongest assets, but it remained a suspenseful, often painful look at one seriously broken family, and the finale ended on a surprising note with John Rayburn, showing the character, somehow, stooping even lower. Todd A. Kessler, Glenn Kessler, and Daniel Zelman and all involved have given us two excellent seasons with these challenging characters, and at least they got one more season to show us another side of the former picture perfect family's dark underbelly.
The final season of Bloodline is available next May on Netflix.