Don't Expect To See The Joker In 'Justice League'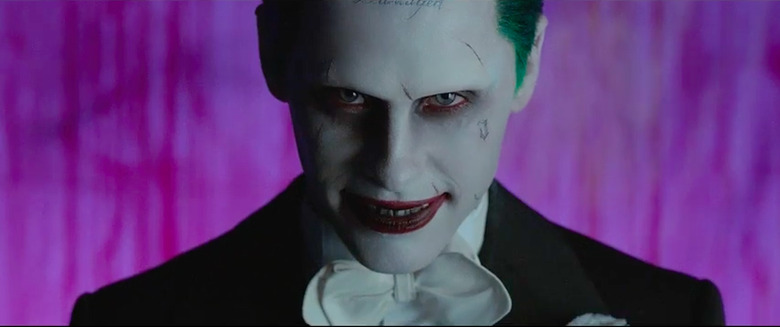 There have been rumblings for some time that we might see characters from Suidice Squad appear in Justice League. We know that Warner Bros really wants a connected universe and say what you will about the film, but people responded to the characters in Suicide Squad. Even when I was visiting the set of Justice League, there were even rumors that we might be seeing a scene which involved some of the Sqwad. Of course, that didn't happen. And now we have confirmation that Jared Leto's The Joker will not be appearing in Zack Snyder's superhero team-up film.
The report comes from scooper Umberto Gonzalez who tweeted: "Sorry DC fanboys. Yesterday's rumor that surfaced about Jared Leto being in JUSTICE LEAGUE? Unfortunately, not true." I'm not sure that's unfortunate as Leto's portrayal of The Joker was universally one of the most hated parts of Suicide Squad.
Also, I'm not sure it makes much sense to have Joker in the story as the Justice League already have enough to death with in the form of Steppenwolf, the Parademons (which we saw in the Knightmare sequences of Batman V Superman: Dawn of Justice) and possibly even Darkseid (who was hinted about in a deleted scene/the ultimate edition).
That's not to say that characters from Suicide Squad won't appear in Justice League, but I think it might be unwise to try to juggle more than The Flash, Batman, Superman, Wonder Woman, and Cyborg, especially in the first outing.  And there's always the possibility of doing a brief cameo situation like what was done in the credits scene for Suicide Squad. Maybe Batman and crew need to visit Belle Reve for some reason and have an encounter with the Sqwad? It is possible... but is it really necessary? I was actually impressed with a lot of the world building that I saw while on the set of the movie, and it seems that Snyder is trying to paint a bigger picture of this universe, and not a smaller one.