Adam Driver Compares The Shifting Tone Of 'Episode 8' To 'Empire Strikes Back'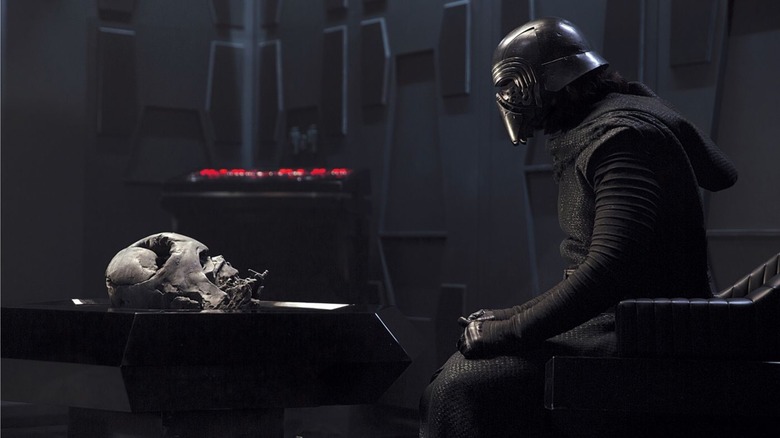 We don't really know much about the story in Star Wars Episode VIII aside from Force Awakens co-screenwriter Lawrence Kasdan calling it "weird" and Rian Johnson revealing it will begin moments after the conclusion of Episode 7. We know a lot all the people involved in the production, but not much about the story itself. So any little piece of information is something. So when Kylo Ren himself, Adam Driver, compares the tone of Episode 8 to Empire Strikes Back, we take notice.
Adam Driver talked to Collider while doing press for Jim Jarmusch's Paterson, and here are the big takeaways: Driver says the script is "great."
Rian is coming into something that we kind of set up and he just took it to the next level in a really great way. He wrote it, too, and Rian's writing is so clear. I learned a lot of things about my character through his writing. Some things we talked about before and some things we didn't. He was working on [the script] while we were still working on the first one. To understand what J.J. was doing and take ownership from there is kind of a remarkable thing. ...
It's similar to how The Empire Strikes Back has a different tone. For that people always go "oooh, it's dark" but I don't know that it necessarily is. It's just different in tone in a way that I think is great and necessary but also very clear. He trusts [that] his audience is ready for nuance and ambiguity. He's not dumbing anything down for someone and that's really fun to play.
I love everything Driver is saying here. Johnson has proven himself to be great with subtlety, nuance, and ambiguity, so it's great to hear that big corporate Disney isn't making him paint more broadly. I'm sure many people will take the Empire Strikes Back comparison to mean the film will be much darker, but the actor suggests otherwise. Empire was always my favorite movie from the original trilogy, so the comparison doesn't bother me in the least. I guess my real concern is in the past few years when filmmakers have referenced Empire we've usually gotten films like Star Trek Into Darkness.
But I think what Driver is getting at here is that this film is the middle act of a new trilogy. The first film was fast and fun, introducing us to the new characters. This movie will likely be more focused on exploring the struggles of this world while setting up the real stakes that will eventually come to climax in the final chapter, Colin Trevorrow's Star Wars: Episode IX.
Rian Johnson's still-untitled Star Wars: Episode VIII is scheduled to hit theaters on December 15th, 2017.