'Elle' Trailer: Paul Verhoeven Teams With Isabelle Huppert To Push Your Buttons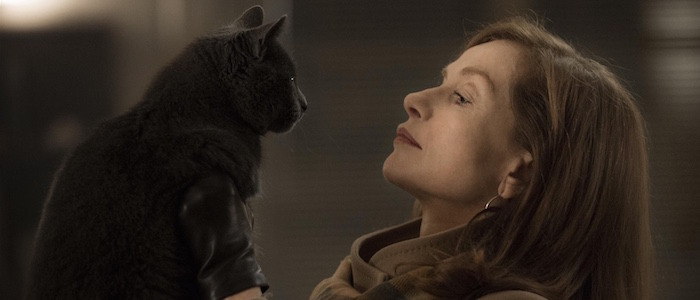 Paul Verhoeven has a unique talent for getting a rise out of audiences. RoboCop is a goofy action movie...that is also about the inner rot eating away at American culture. Starship Troopers is a wild science fiction action movie...that is also a vicious parody of fascism and military propaganda. Basic Instinct is a sexy psychological thriller...that leaves you feeling disgusted with yourself on just about every level. And Showgirls is...well, it's Showgirls.
Excluding 2012's crowdsourced experiment Tricked, Elle is Verhoeven's first feature film since 2006's exceptional World War II drama Black Book and it certainly looks like he's up to his old tricks. Here's a thriller that looks standard on the outside, but promises all kinds of provocative nastiness on the inside. The trailer and the talent involved is more than enough to grab my interest, but I'll be honest: I'm dreading this movie as much as I'm looking forward to seeing it.
Watch the Elle trailer after the jump.
Elle has been garnering divisive reactions since it premiered at the Cannes Film Festival earlier this year, with some critics calling it a masterpiece and others dismissing it as grotesque trash. Others have found themselves caught in the middle, attempting to walk the sick tightrope Verhoeven tends to string between junk and art. In other words, this movie has my attention and is one of my top priorities at Fantastic Fest next week (it also made our list of most anticipated movies of the Fall).
The film stars the great Isabelle Huppert as a woman who is assaulted in her own home by an intruder and meticulously sets out to get her revenge. The specific nature of her revenge, and what transpires between her and her attacker, is not spelled out in this trailer and I can only assume that it is what has gotten so many people talking about this movie. I've intentionally dodged specific plot points because it has been far too long since a new Verhoeven movie has knocked me upside the head. I'm going into this one as fresh as I can.
Once more people have seen the film, we'll be able to get to the bottom of what Elle is and whether or not you should see it. I definitely plan to add my two cents to the conversation once I've seen it, so look for my review in the near future. In the meantime, here's the official synopsis:
When Michelle, the CEO of a gaming software company, is attacked in her home by an unknown assailant, she refuses to let it alter her precisely ordered life. She manages crises involving her 75-year-old sex kitten mother, her imprisoned mass murderer father, her spoiled and immature son, her ex-husband and her lover, all with the same icy equanimity. This is the approach she brings to the situation when it appears that her assailant is not finished with her. As the mysterious stalker hovers in the shadows of her life, taunting her, Michelle cooly stalks him back. What emerges between Michelle and her stalker is a kind of game, a game that soon spirals out of control.
Elle will open in theaters on November 11, 2016.