'Black Mirror' Keeps Up The Good Work In Season 3's "San Junipero" And "Nosedive" [TIFF Review]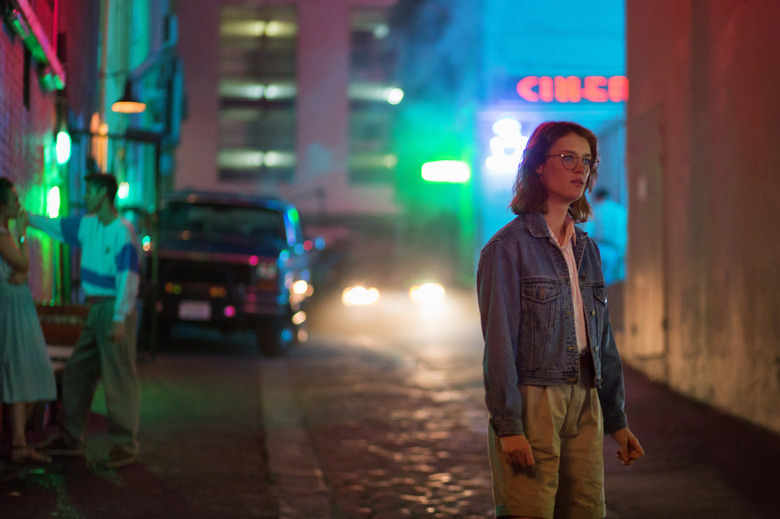 It's been nearly two years since the last episode of Black Mirror, Charlie Brooker's tech dystopia anthology series, and over three years since the last proper full season aired. Naturally, then, news that Netflix had commissioned 12 more episodes was met with a combination of excitement and trepidation.
On the one hand, Black Mirror is second to none when it comes to chronicling the way humanity and technology intersect in 2016. On the other, we've seen tons of shows renewed after extended hiatuses, only to return as shells of their former selves. Could the third season of Black Mirror live up to the greatness of the first two? Based on the two episodes that screened at TIFF, "San Junipero" and "Nosedive," the answer seems to be yes.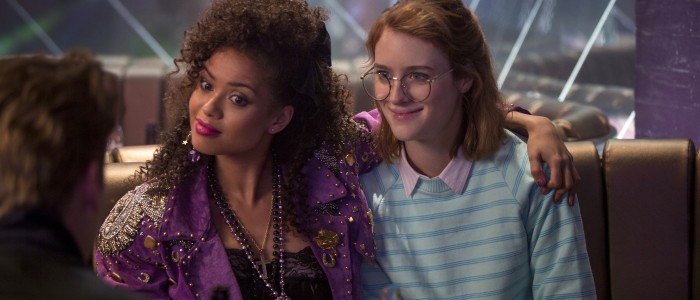 Written by Brooker and directed by Owen Harris, the first episode, "San Junipero," is named after the 1980s seaside party town that serves as its setting. At a bar one night, shy and sheltered Yorkie (Mackenzie Davis) crosses paths with good-time girl Kelly (Gugu Mbatha-Raw). The two women have little in common, but find themselves undeniably drawn to each other all the same.
Yorkie and Kelly's chance encounter could easily serve as the first act to a straightforward romance, down to the contrived meet-cute that brings them together. This being Black Mirror, it's hard not to wonder when the other shoe will drop — and true to form, there is more to San Junipero and its tourists and residents than meets the eye.
But the biggest surprise of "San Junipero" is how tender and downright sweet it is. While Black Mirror has a reputation as an emotionally brutal show about the way technology shapes our everyday lives, its greatest strength is its understanding of human nature. "San Junipero" touches upon some interesting sci-fi concepts but is more concerned with the journey taken by these women, played wonderfully by both actresses.
It feels like a slight departure for the show, but Black Mirror's format gives it the flexibility to stray from its usual M.O. "San Junipero" feels complete in and of itself, almost more like a feature that just happens to have a brief running time than a short film or an episode of television.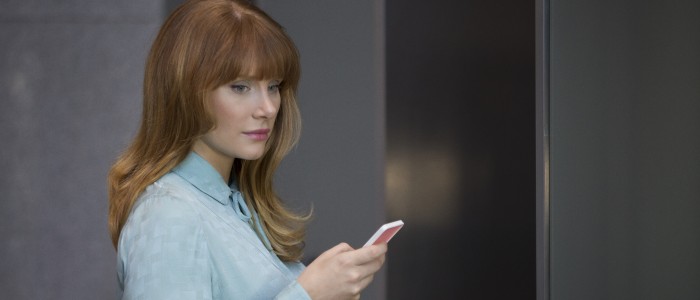 "Nosedive" feels more in line with what we've come to expect from Black Mirror, despite being the one that's not written by Brooker. Directed by Joe Wright and written by Rashida Jones and Michael Schur, "Nosedive" boasts polished pastel aesthetic that falls somewhere in between Her utopia and Edward Scissorhands suburbia.
Everyone in "Nosedive" is hooked up to a giant social network. Individuals rate their interactions with friends, acquaintances, and strangers on a five-star scale. (Think Facebook or Instagram, plus Uber's mutual ratings system.) Higher scores mean more respectability, more influence, and more perks, while a lower score brings subpar treatment and can even jeopardize a career.
Our main character Lacie (Bryce Dallas Howard) hovers around a 4.2, but needs to get a 4.5 in order to get a discount on her new apartment. Lacie's big chance to drive up her score comes when a high-ranking friend, Naomie (Alice Eve) asks her to be the maid of honor at her wedding. Needless to say, things do not go as planned.
If the message of "Nosedive" is ultimately rather simplistic (yep, turns out the meaning of life does not lie in phony popularity), the characters' fixation on upvotes will feel uncomfortably familiar. Lacie puts herself under intense pressure to maintain a picture-perfect facade, and FOMO seems to bleed into every minute of her day. It's a slightly amplified version of our already existing obsession with Facebook likes and Twitter favorites, and it's chilling to realize we probably aren't that far removed from simply rating each other.
Black Mirror season 3 hits Neflix October 21./Film rating: 8.0 for "San Junipero," 7.0 for "Nosedive."