New 'Westworld' Trailer: "Do You Know What This Dream Means?"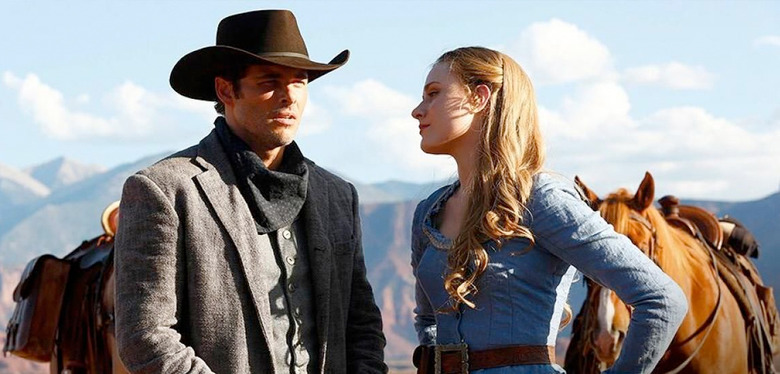 The marketing for HBO's Westworld continues to impress. The footage we've seen so far has promised an ambitious, fun and thoughtful piece of science-fiction, and fingers crossed that's what we'll see next month when the series finally premieres on HBO. Another trailer – this time showing more of the world from Dolores Abernathy's (Evan Rachel Wood) perspective – has been released for Jonathan Nolan and Lisa Joy's loose remake of Michael Crichton's film.
Below, watch the new Westworld trailer.
Unlike Crichton's picture, this J.J. Abrams-produced series isn't only interested in the humans. Nolan, Joy, and all involved are placing more focus on the "hosts," the artificial intelligence populating an expensive vacation getaway called Westworld. Some of the hosts are played by Wood, Thandie Newton, and more. These machines represent the birth of a new species. Their maker, based on the footage, is Dr. Robert Ford, played by Sir Anthony Hopkins, whose chilling voice nicely complements some of the unsettling shots in this new Westworld trailer:
The Westworld trailers have featured plenty of memorable images. The warm, opening shots later contrasted by all the brutality and tech creates an eerie dichotomy. HBO put together an impressive list of directors, so at the very least, we can expect a handsomely made television series. Season one of Westworld was directed by Jonathan Nolan, Fred Toye (11.22.63), Stephen Williams (26 episodes of Lost), Richard J. Lewis (Barney's Version), Jonny Campbell (Doctor Who), and a director behind some fantastic episodes of Breaking Bad and Game of Thrones, Michelle MacLaren. Another name in the long list of talent involved in Westworld? Comic book writer Ed Brubaker, who's a supervising producer on the series.
Here's the official synopsis:
The one-hour drama series WESTWORLD (ten episodes) is a dark odyssey about the dawn of artificial consciousness and the evolution of sin. Set at the intersection of the near future and the reimagined past, it explores a world in which every human appetite, no matter how noble or depraved, can be indulged. The cast includes Anthony Hopkins, Ed Harris, Evan Rachel Wood, James Marsden, Thandie Newton, Jeffrey Wright, Tessa Thompson, Sidse Babett Knudsen, Jimmi Simpson, Rodrigo Santoro, Shannon Woodward, Ingrid Bolsø Berdal, Ben Barnes, Simon Quarterman, Angela Sarafyan, Luke Hemsworth and Clifton Collins, Jr. Inspired by the motion picture "Westworld," written and directed by Michael Crichton. Production companies, Bad Robot Productions, Jerry Weintraub Productions and Kilter Films in association with Warner Bros. Television. Executive producer/writer/director, Jonathan Nolan; executive producer/writer, Lisa Joy; executive producers, J.J. Abrams, Jerry Weintraub, Bryan Burk.
Westworld premieres on HBO on October 2nd at 9 pm ET/PT.