'Fifty Shades Darker' Trailer: Christian Grey Looks Like He Works Out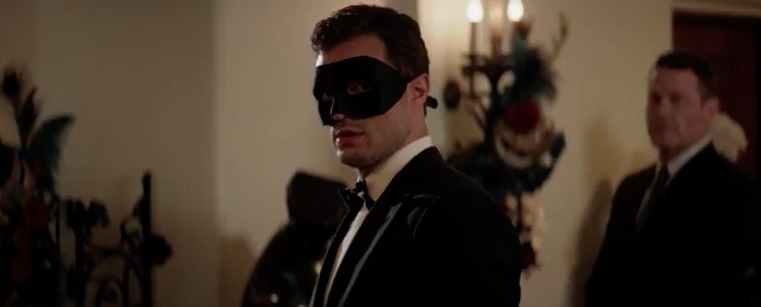 Yesterday, Universal released a 20-second teaser for the Fifty Shades Darker trailer. Now, you can watch the full trailer, which features "Crazy in Love" performed by Miguel, fine supporting actors you hardly see any of, and plenty of more drama between Anastasia Steele (Dakota Johnson) and Christian Grey (Jamie Dornan). It's, for the most part, what's expected for a trailer for the sequel to the hit 2015 film.
Below, watch the Fifty Shades Darker trailer.
James Foley (Glengarry Glen Ross) inherited the director's chair from Sam Taylor-Johnson (Nowhere Boy), who decided against returning for the sequel. Based on author E.L. James' wildly popular series, in Fifty Shades Darker, the past returns to haunt Anastasia Steele and Christian Grey, as the two begin to rekindle their relationship after their underwhelming falling out in Fifty Shades of Grey. Starring alongside Johnson and Dornan are
Starring alongside Johnson and Dornan are Luke Grimes as Elliott Grey, Kim Basinger as Elena Lincoln, Eloise Mumford as Kate, Max Martini as Taylor, and Marcia Gay Harden as Mrs. Grey. Playing Dr. John Flynn is Hugh Dancy , who Foley worked with on an episode of Hannibal. Perpahs because the trailer is so focused on Steele and Christian's relationship, you don't see Dancy in the trailer, or you just have a hard time spotting him.
Here's the Fifty Shades Darker trailer:
It's hard not chuckle a little at that shot of Christian Grey working out, as Anastasia Steele watches him with a satisfied expression. That shot of Dornan is the kind of self-aware moment that some Fifty Shades of Grey fans definitely appreciate. We'll see how that scene actually moves the plot along next year on Valentine's Day, but in the trailer, it's a funny and shameless, in a good way, shot that adds some levity to an otherwise very serious and very dour trailer.
Here's the official synopsis:
Jamie Dornan and Dakota Johnson return as Christian Grey and Anastasia Steele in Fifty Shades Darker, the second chapter based on the worldwide bestselling "Fifty Shades" phenomenon. Expanding upon events set in motion in 2015's blockbuster film that grossed more than $560 million globally, the new installment arrives for Valentine's Day and invites you to slip into something a shade darker.
When a wounded Christian Grey tries to entice a cautious Ana Steele back into his life, she demands a new arrangement before she will give him another chance. As the two begin to build trust and find stability, shadowy figures from Christian's past start to circle the couple, determined to destroy their hopes for a future together.
Fifty Shades Darker opens in theatres February 10th, 2017.