The Newest 'Luke Cage' Clip Introduces Mahershala Ali As Cottonmouth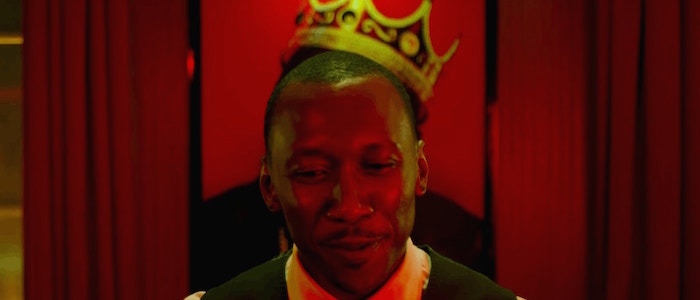 Luke Cage doesn't premiere on Netflix until the end of the month, but Marvel isn't being shy with the new clips. The first few teases showed off Mike Colter as Power Man himself, with the unbreakable skinned superhero absorbing punishment, dishing out pain, and finding himself in need of some new clothes. The newest clip places the focus on one of the chief villains he'll be battling during the show's first season: Cornell "Cottonmouth" Stokes, played by House of Cards and The Hunger Games series star Mahershala Ali.
The clip is straightforward enough: Cottonmouth brags about his Biggie Smalls art and positions himself in frame, so he appears to be wearing the crown perched on the late hip-hop star's head. And then we see that he's talking to someone who has gotten on his bad side and is facing some serious physical consequences. After all, it wouldn't be a Marvel Netflix series without someone getting beaten to a bloody pulp in every episode.
Luke Cage Clip: "Be King."
It remains to be seen how much this version of Cottonmouth will be like his comic book counterpart. Although the on-paper version is a pretty straightforward criminal in regards to his various evil machinations, he is also gifted with super strength that makes him a physical match for Luke Cage (and he later has his teeth replaced with razor-sharp fangs). The show has even modified his name slightly, adding the "Stokes" surname and making Cottonmouth a nickname.
In any case, Cottonmouth is entering the Marvel Cinematic Universe with some level of expectation. While the MCU movies have often featured disappointing villains who don't leave much of a lasting impression, the Netflix villains have been a highlight of their respective series. Vincent D'Onofrio's Kingpin is easily the best part of Daredevil and David Tennant's Purple Man was a terrifying monster worthy of Jessica Jones. If this clip is any indication, Cottonmouth is going to be a variation on something we've seen before (the charming, sociopathic crime boss), but Mahershala Ali is a damn fine actor and I'm very much looking forward to seeing what he does with this part.
Luke Cage is set to premiere on September 30, 2016 and early reviews have been mostly glowing, with some critics calling it Marvel's best series yet. Like with Jessica Jones and Daredevil, look for our in-depth spoiler review shortly after the first season drops. I'm sure we'll have plenty to talk about.