Two 'Space Mountain' Movies Were Killed By 'Star Wars'

In January 2012, Variety reported that screenwriter Max Landis had sold a pitch to Walt Disney Pictures for an "untitled space adventure" pitch with the potential to be a film franchise that could "benefit all of the company's divisions." A few months later it was reported that screenwriter Max Borenstein was hired by the mouse house to write his own "space-set sci-fi adventure" called Paladin for Tron: Legacy producer Justin Springer.
But as it turns out, the two projects were actually Space Mountain feature films that Disney was developing in secret. Find out what Max Landis' Space Mountain movie would have been and learn why both projects didn't happen.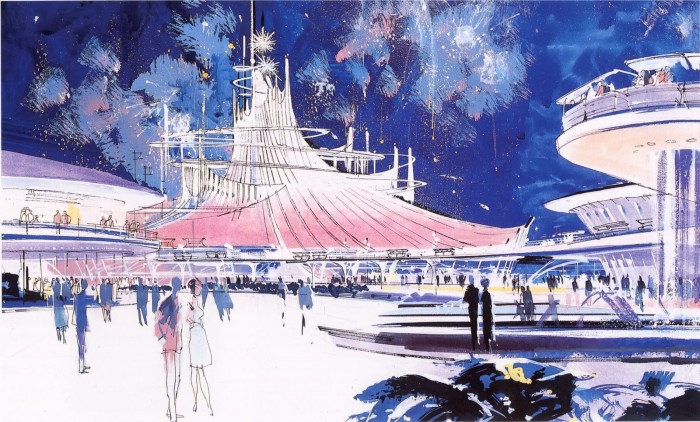 The initial trade report about the project said that the story "revolves around the emotional journey of a brother and sister as they undertake an epic adventure" with Wedding Crashers producer Andrew Panay on board.  This happened just weeks before Chronicle was to hit theaters, so the story got little pick-up outside of the Hollywood trades.
Landis later revealed that the project was to be a big screen adaptation of the famous Disneyland/Disney World attraction Space Mountain. This isn't necessarily new "news", but I thought some of you Disneyland fanatics like me might be interested in hearing about it.
The screenwriter gives a brief glimpse at the film's logline on his website:
Space Mountain – Set in a retro 1950s version of the future, a young man must travel across a solar system in the wake of a terrible disaster, unravelling a mystery as he searches for his lost sister.
Earlier this year at the Middle East Film and Comic Con, Landis explained why the film never happened. According to the screenwriter, he was working on the project at Disney when production was all of a sudden halted in October 2012. He tried to find out why the project was shelved and Disney responded that they had greenlit another property that was too similar, and have decided not to make a movie based on Space Mountain after all. Two weeks later, the news broke that
Two weeks later, the news broke that Disney had acquired Lucasfilm from George Lucas and would be making new Star Wars movies. Ironically, George Lucas' original Star Wars film was released on May 25th, 1977, just two days before Space Mountain had its grand opening in Disneyland's Tomorrowland. And now Space Mountain has been transformed into a Star Wars-themed Hyperspace Mountain which was originally supposed to be a seasonal overlay but now has no specified end date.

Borenstein's Paladin was reported to have a logline that was "being kept tightly under wraps" but I've also heard that project was actually a secret codename for a Space Mountain movie. But why was Disney developing two Space Mountain movies? It's not uncommon for a big studio to hire multiple screenwriters to pen different competing takes on a property, but this one is particularly strange because these seem to be completely separate competing projects with different producers at the same studio.
Borenstein has gone on to write the scripts for Gareth Edwards' Godzilla and Kong: Skull Island. In May 2014 the writer gave an update on Paladin to Collider:
We'll see.  It has not been made yet, but it is not out of the question.  It's for Disney, and they have some other space adventures that you might have heard of.  We'll see what happens.  I think the script is in a good place, and the producer, me and the people involved are excited about it.  So, we'll see what happens, and when the moment is right.  There are just so many moving pieces that have nothing to do with your project.  I've seen, even the 10 years that I've been doing this, which is relatively short but not so short that I don't feel like something of a veteran, that movies that I thought were dead, come back to life.  And that one is far from dead.
He seems hopeful, but if you read between the lines, you can see the film probably isn't happening at Disney now that they have Star Wars. Space Mountain did later appear on screen in the Disney movie Tomorrowland directed by Brad Bird. I talked with Bird about the attraction's appearance in the film here.