Disney Almost Created A 'Myst' Theme Park

If you played computer games in the 1990's, then you probably remember Myst, the best-selling adventure puzzle game which took players around a magical island filled with mysterious secrets. Myst was responsible for accelerating the sales of CD-ROM drives and remained the bestselling PC game throughout the 1990s until The Sims exceeded its sales in 2002.
There has been this long-running rumor that Walt Disney Imagineering once considered turning Disney World's Discovery Island into a Myst theme park. Myst creators, brothers Robyn and Rand Miller, have now confirmed they did work with Disney on a Myst attraction.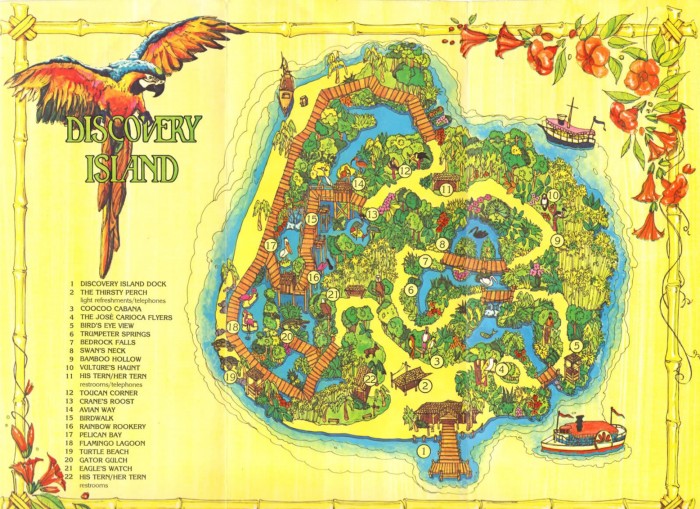 Myst Theme Park Details Revealed
Myst creator Rand Miller confirmed the long-running rumor during an interview with AV Club while promoting their new game Obduction:
That was absolutely true. At some point, there were some really cool plans to do some stuff with Disney. We were looking at it as the ultimate incarnation of our world. Basically, there was a place down in Florida—it's one of the island areas that they had that wasn't used very much. But it had some walkways among trees, and an island area, and we went down and looked at it and walked around it, and it was incredibly Myst-like. It was perfect for Myst. So we were all excited. Their imagineering team was excited about embracing that and building some stuff into it and tying it into the rest of the park, where you could explore and have this real-world experience. But, the way Disney works, and the way it had to fit in with their bigger scheme of things, and the way we didn't understand pieces of it, I think it fell apart from their point of view. That was a very exciting time. It was cool to try to pull that off.
Our friend Jim Hill first wrote about the story over twelve years ago:
"Myst Island" would have attempted to duplicate the look and feel of the award winning computer games. Only a limited number of guests would have been allowed out onto the fog shrouded island each day. They'd have been dropped off by boat early in the morning and then picked up in the late afternoon. Their mission was to explore the ruins scattered around the 11 acre island to try to figure out what happened to the island's previous occupants. This day-long adventure would have been unlike anything that Disney theme park guests had ever experienced before. Just like the CD ROM games that inspired it, "Myst Island" would have no linear storyline. Guests could only discover the various puzzles scattered around Myst Island by exploring all its weird little nooks and crannies. Depending on which path they took, which artifacts they uncovered as well the order in which the guest discovered them, different secrets of the island would have been revealed. Theoretically, no two guests could ever have the exact same adventure as they wandered the terrain.
The reason behind the idea was that park guests were becoming disgruntled with the hour long wait times for three-minute long rides. Theme park exit surveys suggested that park visitors might be interested in a longer experience. The idea was to test out the model on a small scale with this Myst project, to see if tourists would pay more for a different type of Disney theme park.
Disney planned to transform Bay Lake's Discovery Island into a Myst theme park. Over the years of development, "several proposed storylines were sketched out, and potential rehab plans for Discovery Island were drawn up." No one seems to know exactly why the project never happened. Hill suggests that a construction site on the small island would have been a logistical nightmare. Also, the interactive effects that would have been needed to be created would have been very costly then.
Discovery Island Details
If you are interested in digging deeper, Abandoned has a great video about Disney's Discovery Island. Walt Disney purchased the island in 1965, and original plans designed to turn the island into an attraction like Tom Sawyer Island. Three years after the opening of Disney World's the Magic Kingdom, the island opened to theme park guests. The island offered guests a chance at seeing 140 species of animals and 200 species of tropical plants. You can find videos from when the island was open on Youtube. The island closed shortly after the opening of Disney's Animal Kingdom theme park.
Disney World's Discovery Island remains off-limits to visitors to this day, but some people have illegally explored the closed island. While the exterior features (like the Pirate Ship and Dock) were removed after it closed, the rest of the island remains untouched and abandoned by the Disney company. I remember at the height of Lost's popularity there were rumors that Disney might transform the island into a Lost attraction. That would have been cool as well. I've often wondered why Disney doesn't do something, anything, with the island. But I guess the fact of the matter is that it's a small island and probably any capacity of guests isn't worth the costs involved.
Legendary Pictures is still trying to turn Myst into a television series.  Rand Miller told AV Club that "we're farther along now than we've been in a long time" and that "Hopefully, at some point in the future, things start to snowball as things are connected and attached and stories develop a little more."
"It's an exciting thing. It's hard to get your hopes up, because I don't know the intricacies of Hollywood, but it's fun to look forward to."