A Look At 'Pacific Rim' Screenwriter Travis Beacham's Crazy Directorial Debut 'The Curiosity'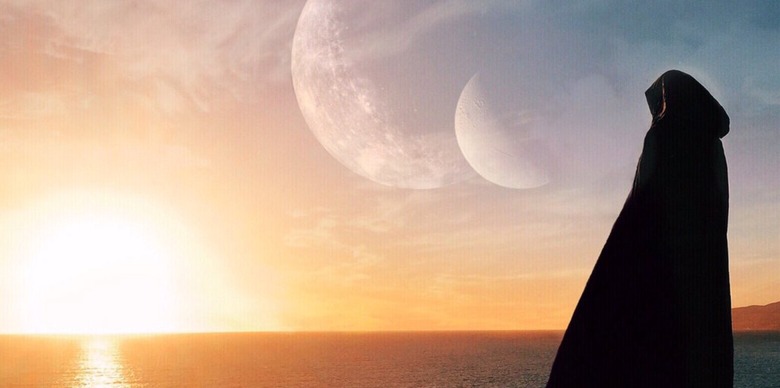 This July, screenwriter Travis Beacham completed his first full-length feature film. The Killing on Carnival Row and Pacific Rim writer's latest story is The Curiosity, a fairy tale "featuring mythic creatures, ancient magics, arcane technologies, & wonders yet untold," according to the film's blog, which also mentions shapeshifting mermaids. From pre-production to post-production, Beacham shared behind-the-scenes photos, concept art, and even some teasers.
Below, you can watch The Curiosity teaser and check out more materials from the fantasy picture.
The Curiosity stars Caroline Ford, who starred in the Travis Beacham-created Hieroglyph pilot. That Fox series was an unfortunate situation. After 13 episodes were ordered and a handful of episodes were shot (the pilot directed by Game of Thrones favorite Miguel Sapochnik), the series was scrapped. The early cancellation actually inspired The Curiosity, propelling Beacham to tell a grand fantastical story on a smaller scale.
On the film's blog, Beacham hasn't divulged too many plot details, but the original fantasy film is about a "peculiar young woman (Ford) who finds herself a long long way from home." The story was influenced by some Celtic mythology, a little Teslapunk, and, as far as movies go, Pan's Labyrinth, The Prestige, and Stardust.
Here's the brief teaser Beacham recently shared again (and a link to another one from 2015):
Two moons. Shapeshifting mermaids. Teslapunk magicians. I've made nothing better than #TheCuriosity pic.twitter.com/AK5YYPVlCf

— Travis Beacham (@travisbeacham) September 12, 2016
Although Hieroglyph didn't end well, there was a silver lining: it led to The Curiosity for Beacham, who landed his first director-for-hire gig after helming the film. Here's what he wrote about the experience of going from the canceled Fox series to getting behind the camera:
There's a few things I learned from my experience on HIEROGLYPH. First of all, I learned that building a world doesn't need to be as expensive as a summer blockbuster. Yeah yeah, newsflash, I know. But it was still crazy to see just how much of an ancient empire we were able to build for a small fraction of PACIFIC RIM's budget — still a fortune by tv pilot standards, but downright restrained in film terms. Secondly, I learned that I had an appetite for production. As I've probably said before, television exposes writers to far more of the nitty-gritty than film does. And I loved it, more than I'd expected. But the only way a writer gets that from the film business is by directing your own material. So in short, what I ultimately realized is that it was time to direct a movie.
Well, THE CURIOSITY is that movie. Without giving too much away, it's a small-scale fantasy, somewhere in the budgetary neighborhood of indie genre fare like PAN'S LABYRINTH or DISTRICT 9. That is to say only that it's an intimately focused, character-driven tale, nevertheless set in a world of its own (nothing as grand as Pharaonic Egypt, mind you, but still a far cry from the house next door.)
We're not sure when we'll see The Curiosity. Beacham's film is currently without a distributor and isn't set to premiere at any upcoming festivals, but hopefully, that'll change soon because it looks like an ambitious debut that's looking to accomplish a lot of worldbuilding with little recourses. You can get a taste of the worldbuilding in some of the concept art and more posted on the film's Tumblr page.