Chris Pratt Wants Star-Lord To Meet The Punisher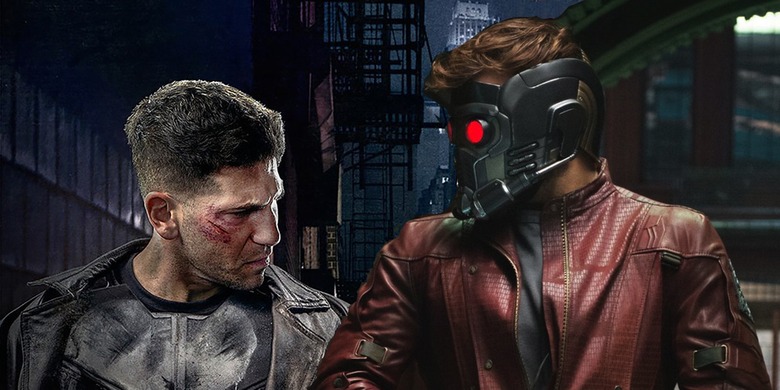 The Marvel Cinematic Universe is filled with exciting possibilities. Part of the enormous fun in The Avengers films or Captain America: Civil War is seeing these heroes interact with each other, and seeing how their personalities clash in those interchanges. But if you ask Guardians of the Galaxy star Chris Pratt, the character he would be most interested in seeing Star-Lord meeting on the big screen would have to be The Punisher.
Pratt was asked this question while out promoting his upcoming film The Magnificent Seven. The star was asked by We Got This Covered which Marvel character he would be most interested seeing Peter Quill meet on the big screen:
Oh, gosh. I don't know. I'll have to leave all that to Marvel, releasing who's going to fight what. Me personally, I don't even know the right answer to that. If I say the wrong thing I'll get in trouble by Marvel or by the fans. It'd be awesome – I would like Peter Quill to meet the Punisher. He's not in the movies, but if I'm talking Marvel Cinematic Universe, I think it'd be cool for Peter Quill. Punisher was my favorite growing up so that'd be cool for me to meet him.
Jon Bernthal plays Frank Castle aka Punisher in season two of the Netflix series Daredevil. The character has been a fan favorite for some time, and many agree the television version of the anti-hero has finally gotten it right (it only took a few failed film attempts).
An epic crossover event film like Avengers: Infinity War certainly opens up the possibility for interesting interactions we haven't seen before. The Russo Brothers have already confirmed that Chris Pratt appears in Infinity War, and the Guardians of the Galaxy so far have been pretty isolated from the rest of the Marvel Cinematic Universe. I would expect to see Star-Lord and crew have all sorts of fun interactions with the remainder of the Avengers line-up, but I'm not so sure we'll see Quill opposite The Punisher on the big screen.
So far the Marvel movie and television divisions have been kept very separate from each other. There is a logistical nightmare about how a television show could possibly crossover with a movie when the two are produced on very different timetables. That aside, it just doesn't seem like Marvel is interested in having their television characters appear on the big screen — not that they don't already have enough characters to juggle in Infinity War already.
Pointing out the completely obvious: Chris Pratt isn't writing Infinity War and isn't creatively leading the charge on the film. Just because the actor says he'd love to see his character meet up with Punisher doesn't mean it will ever happen. That said, if Pratt really wanted to see it happen and Marvel saw a story opportunity, a star of his caliber might be enough to make it come to fruition.