Lupita Nyong'o Hasn't Filmed Her Scenes For 'Star Wars: Episode 8'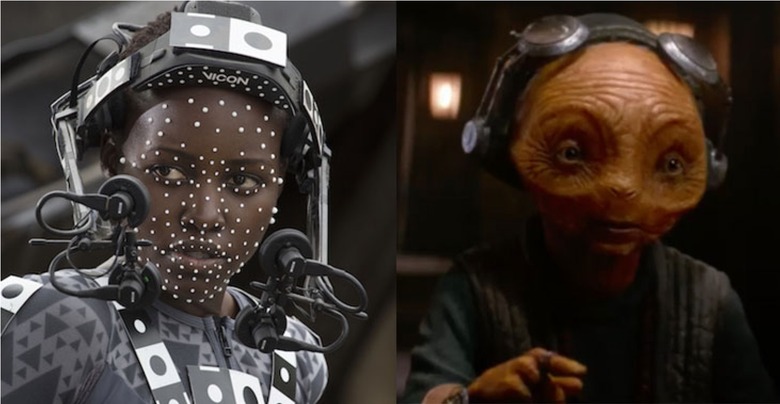 Production may have wrapped on Rian Johnson's Star Wars: Episode 8 but Lupita Nyong'o has yet to reprise her Force Awakens role as Maz Kanata. We'll explore the possible reasons why the Lupita Nyong'o Episode 8 filming has yet to begin, after the jump.
Collider talked to the Academy Award-winning actress as she was out promoting her new film Queen of Katwe, asking her what it was like working with filmmaker Rian Johnson. Nyong'o's response was somewhat surprising:
Rian! I haven't worked with him yet; I've yet to shoot. That's in my future.
This is a surprise as one of the first photos we saw from the set of the new Star Wars sequel seemed to show Nyong'o in a performance capture studio reprising her motion capture role:
Of course, the photo was presented without any explanation, so I guess Lupita was not on the set during these days. If I had to guess, they may have used another performer as a fill-in during principal photography while Nyong'o would provide performance later on.
And it didn't help that Luke Skywalker himself tweeted out a photo of himself with Lupita and co-star Oscar Isaac during the production of Episode VIII.
Cuddling adorable Lupita-who's seeking a little fatherly advice(as Oscar kindly provides bunny ears) #PhotoBomberPoe pic.twitter.com/JBorN3Nel0

— Mark Hamill (@MarkHamill) April 4, 2016
Maybe this was from costume fittings or the script reading (although filming on the film began months earlier.
A lot of Maz's appearance as it appears in the final version of Star Wars: The Force Awakens was shot during reshoots at Bad Robot. And considering that her character is completely computer generated, it makes sense that they would get to that part last when they have nailed down what they need from the live-action side of things.
It is worth noting that Maz's visual effects were one of the few aspects of the film that many fans complained about. But this movie should have plenty of time to get it right. Episode 8 has a much longer post-production period compared to Force Awakens, and there is still 15 months before the film hits theaters nationwide.