Review: 'Sing' Is Another Cute Crowdpleaser From Illumination Entertainment
Note: With Sing out this weekend, we're re-running our review from the TIFF.
Since Despicable Me, Illumination Entertainment has established itself as a go-to source for sturdy family entertainment. Their films may not reach the artistic heights of Pixar or Disney, but you can generally count on them to be perfectly pleasant and inoffensive, able to entertain the kids without annoying the parents.
Sing is Illumination's first musical, but otherwise it's cut from the same cloth as the company's other films. While not especially deep, the combination of a star-studded cast and an equally star-studded music catalogue make for a fun time. It's light and sweet and pretty as cotton candy, and it dissolves from memory just as quickly. 
Angie Han's Sing Review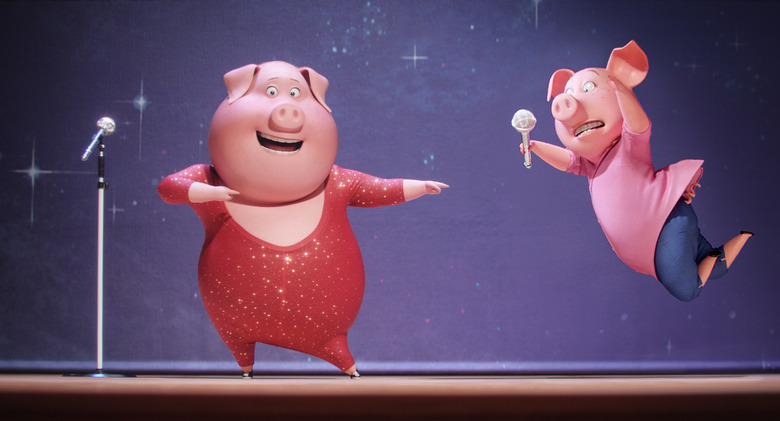 Set in a world filled with anthropomorphic animals, Sing follows an American Idol-esque competition put on by an optimistic koala, Buster Moon (Matthew McConaughey) to save his failing theater. The promised $100,000 cash prize lures animals from all walks of life, but Buster narrows down the finalists to a select few, including Rosita the pig (Reese Witherspoon), Johnny the gorilla (Taron Egerton), Mike the mouse (Seth MacFarlane), Ash the porcupine (Scarlett Johansson), and Meena the elephant (Tori Kelly).
Each of the animals has their own reasons for entering the competition, but all have dreams of music stardom. Some of the characters and subplots work better than others. MacFarlane gets some of the biggest laughs as a smooth-talking con artist gifted with Sinatra-esque pipes, while Egerton's Johnny has one of the more affecting storylines as a soulful young gorilla who longs to break free from the family crime business. John C. Reilly is winning as Eddie, a sheep who is Buster's sounding board and best friend.
On the other hand, Rosita's storyline should be a bittersweet one. She's given up her dreams to become a devoted wife and the mother of 25(!) piglets, but no one in her family seems to appreciate or even notice her, beyond the work she does for them. Entire prestige TV dramas have been built on less, but the film shortchanges her in the interest of keeping things light and upbeat. And Ash's arc, about her rocky relationship with a crappy boyfriend, barely registers at all. Also unsuccessful are the film's halfhearted attempts to unite the characters for a rousing finale. Most of the contestants barely interact with each other; it feels like a mild surprise any time one of them calls another by name.
But of course, all of that plot is just a vehicle for the music. The production has apparently spared no expense getting the rights to an extensive and varied list of tracks that includes everything from Van Halen to Beyoncé. Some are simply part of the soundtrack, while others become the centerpiece of full-on musical numbers. Standouts include basically every number MacFarlane gets, and a performance of Katy Perry's "Firework" that starts out majestic before going terribly awry. None of them will change your life, but they do add up to two hours of mild fun (and, if you have kids, probably months of singalongs).
/Film rating: 6.0 out of 10