The Toy Box: Teenage Mutant Ninja Turtles, Back To The Future, Terminator 2 & More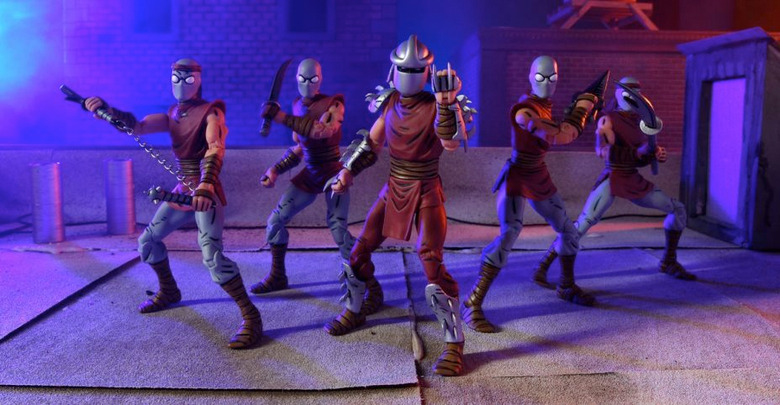 The Toy Box is a recurring feature at /Film that rounds up some of the newest and coolest collectibles, decorations, gadgets and other memorabilia that you nerds might want for your shelves.
In this edition of The Toy Box, you'll find a great new four-pack of figures from Teenage Mutant Ninja Turtles, a new addition to the detailed line-up of Terminator 2: Judgment Day figures, a floating Back to the Future Part II time machine and more.
See everything in The Toy Box after the jump.
Back to the Future: Floating DeLorean Time Machine
There was plenty of Back to the Future memorabilia unleashed upon fans last year with the 30th anniversary celebration of the original film along with Back to the Future Day, the date in October of 2015 that Doc Brown and Marty McFly traveled to the future. Now a cool piece of memorabilia will arrive over a year later, and it features the DeLorean time machine from Back to the Future Part II.
Kids Logic has created a 1:20 scale DeLorean time machine that floats on a magnetic light-up base. The vehicle also comes with changeable wheels to make it appear to fly, or to sit stationary on the ground. There are also flame effects parts to make it look like it's going back in time.
The bad news is this item will cost you nearly $225 over at BTTF.net, but it's currently out of stock.
Terminator 2: Judgment Day: NECA T-1000 Motorcycle Cop Figure
Continuing their Terminator 2: Judgment Day action figure line, NECA has unveiled their ultimate 7-inch motorcycle cop version of T-1000. The detailed likeness of Robert Patrick has a fully articulated body and a slew of accessories that allow you to recreate some of his best scenes from the movie. The accessories include interchange heads and hands, including a bladed arm, a pistol and a machine gun.
The figure pictured above (via ToyArk) will go perfectly with the T-800 and Sarah Connor figures if you're looking to set up scenes. Or you can keep the figure in the box since the packaging has a window box display with an opening flap. An exact price wasn't given, but Toys R Us usually sells these figures for around $23, and it will be on sale sometime in November, just in time for Christmas.
Ghostbusters: Hollywood Collectibles Slimer Statue
There have been a bunch of new high-quality Ghostbsuters statues and figures surfacing lately, and Hollywood Collectibles has a gorgeous addition to the line-up. A new 1/4 scale statue of the ugly little spud known as Slimer is available for pre-order right now, depicting the spectre as he first appears in the original movie, eating a bunch of food on a hotel room service cart.
The statue is pretty pricey at $399.95, but as you can see the 10-inch museum quality statue is extremely detailed, right down to the translucent resin to make it look more like the film version. The regular edition has an edition of 1000 while the exclusive version (which comes with an interchangeable glow in the dark Slimer) only has an edition of 250. Both are available for pre-order right now and will arrive in the first quarter of 2017.
Star Wars: Ultimate Collector's Series LEGO Death Star
LEGO retired their previous Death Star set, and it appears that was only so they could release an updated version of the space station. Here's how the set is officially described by LEGO:
Reenact amazing scenes from the Star Wars saga with the Empire's ultimate planet-zapping weapon, the Death Star! With over 4,000 pieces, this fantastic model has a galaxy of intricate and authentic environments, including a superlaser control room, Imperial conference chamber, hangar bay with moving launch rack and Lord Vader's TIE Advanced with space for Vader inside, Emperor Palpatine's throne room, Droid maintenance room, detention block, trash compactor, tractor beam, cargo area, turbo laser with spring-loaded shooters and seats for the 2 Death Star Gunners, and 2 movable turbo laser towers.
In addition, the minifigures that comes with the LEGO Death Star include, Grand Moff Tarkin, Darth Vader, Emperor Palpatine, Imperial Navy Officer, Imperial Officer, 2 Stormtroopers, 2 Death Star Troopers, 2 Emperor's Royal Guards, 2 Death Star Gunners, Death Star Droid, Obi-Wan Kenobi, Chewbacca, Princess Leia, C-3PO, Han Solo, Han Solo (disguise), Luke Skywalker (Tatooine), Luke Skywalker (disguise) and Luke Skywalker (final duel), plus R2-D2, an Imperial Astromech and a Dianoga trash compactor monster.
The LEGO set will cost $499.99 and will be on sale starting September 30th.
Teenage Mutant Ninja Turtles: Eastman & Laird Villains 4-Pack
Joining the comic book style Teenage Mutant Ninja Turtles action figures from NECA, a set of villains has been revealed to go along with them. Inspired by the original designs by Kevin Eastman and Peter Laird, a new action figure four-pack featuring Shredder and four members of the Foot Clan.
There are only 3,000 pieces available of this four-pack, and they cost $100. The pre-order is open right now at New York Comic-Con and also at the NECA store right now.
***
That's all for The Toy Box for now. If you're looking for some superhero goodies and other memorabilia, be sure to check out the third page of Superhero Bits or our recurring Cool Stuff articles.
Read the previous edition of The Toy Box right here.