LOL: Captain "Sully" Sullenberger Stars In 'Hanks', A Tom Hanks Biopic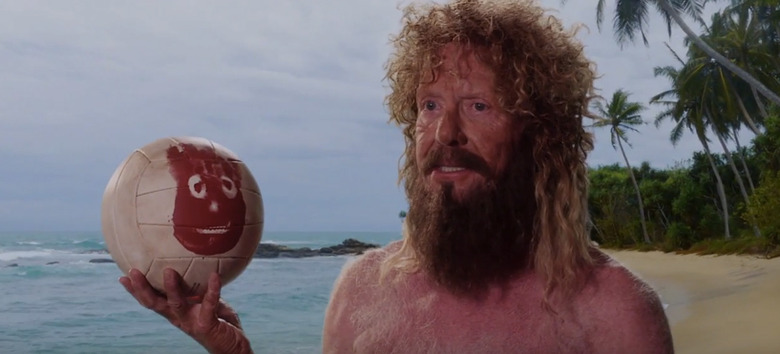 This weekend brings the true story Sully to the big screen. The film directed by Clint Eastwood stars Tom Hanks as real life airline pilot Captain Chesley "Sully" Sullenberger, the man who landed a passenger plane in the Hudson river after something went terribly wrong shortly after take-off from LaGuardia Airport. The movie has been received fairly well with an 83% on Rotten Tomatoes at the time of this writing (though our own David Chen didn't find it wholly compelling), but it appears there may be a more interesting biographical drama on the horizon.
While Tom Hanks is the one bringing Captain Sullenberger to life, Hollywood decided that the airline pilot was the best choice to star in a film called Hanks, a biopic about actor Tom Hanks and his rise to fame. Covering his career from the sitcom Bosom Buddies to his Oscar-winning turn in Philadelphia and more, this biopic looks like another awards contender in the making.
Watch the Hanks trailer after the jump.
Even though the trailer isn't exactly laugh out loud funny all the way through, it's still amusing to see Captain Sullenberger playing a bunch of Tom Hanks' most iconic roles. Maybe the idea is better in concept than execution, but you can't expect an airline pilot to have the best comedic timing or acting skills.
What's really cool though is that Jimmy Kimmel Live rounded up Tom Hanks' real Bosom Buddies co-star Peter Scolari (who you may have seen recently on Girls and Gotham, to play himself in the film. Honestly, it's probably only a matter of time before we get a Bosom Buddies reboot or even a feature film adaptation.
Anyway, all of this is to help promote the release of Sully, which sounds like it's an engaging enough drama that dives into the details of what we don't know about this man who was labeled a hero and then had to deal with the consequences of his actions which saved lives.
From Oscar-winning director Clint Eastwood ("American Sniper," "Million Dollar Baby") comes Warner Bros. Pictures' drama "Sully," starring Oscar winner Tom Hanks ("Bridge of Spies," "Forrest Gump") as Captain Chesley "Sully" Sullenberger.
On January 15, 2009, the world witnessed the "Miracle on the Hudson" when Captain "Sully" Sullenberger glided his disabled plane onto the frigid waters of the Hudson River, saving the lives of all 155 aboard. However, even as Sully was being heralded by the public and the media for his unprecedented feat of aviation skill, an investigation was unfolding that threatened to destroy his reputation and his career.
"Sully" also stars Aaron Eckhart ("Olympus Has Fallen," "The Dark Knight") as Sully's co-pilot, Jeff Skiles, and Oscar nominee Laura Linney ("The Savages," "Kinsey," Showtime's "The Big C") as Sully's wife, Lorraine Sullenberger.
Eastwood is directing the film from a screenplay by Todd Komarnicki, based on the book Highest Duty by Sullenberger and Jeffrey Zaslow. The project is being produced by Eastwood, Frank Marshall, Allyn Stewart and Tim Moore, with Kipp Nelson and Bruce Berman serving as executive producers.
Sully is in theaters everywhere now.