'Divorce' Trailer: "Let's Get This Party Started"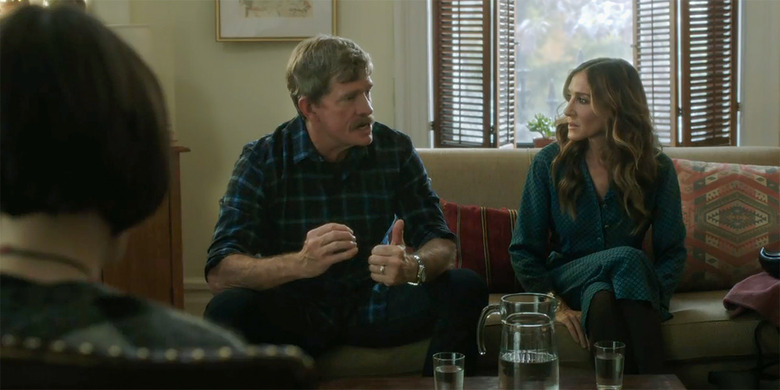 HBO has a strong fall lineup. The show most people seem to be talking about right now is Westworld, but the cable network has plenty of other shows to keep an eye on coming up, including Awkward, High Maintenance (a former fantastic web series), and Divorce. Divorce comes from actor, writer, and producer Sharon Horgan (Catastrophe), and it stars Thomas Haden Church (Killer Joe) and Sarah Jessica Parker (Sex and the City).
Below, watch the Divorce trailer.
In Divorce, Sarah Jessica Parker plays Frances, who's going through one long, bumpy divorce from her husband Robert (Church). The series co-stars Molly Shannon (The Year of the Dog), Talia Balsam (Mad Men), and playwright (Killer Joe) and actor (Homeland), Tracy Letts.
HBO has released a full trailer for season one of the half-hour comedy series (10 episodes in length). Like the teaser trailer, the trailer flows well and gives off a good sense of tone with the use of Man Man's "Head On (Hold On To Your Heart)":
Divorce marks Sarah Jessica Parker's return to HBO. The actress, of course, starred in Sex and the City, and the two movies the series led to. Parker and Church, no matter how much their characters annoy or frustrate each other in this trailer, seem to have great chemistry. They're awfully charming for a couple spending most of the time at each other's throats. They're two actors you wouldn't mind watching in a series every week.
Although Parker is probably mostly known for the popularity of Sex and the City and her work in fashion, perhaps people sometimes forget how charismatic of an actress she is, and how many good movies — Ed Wood, The First Wives Club, L.A. Story, State and Main, Mars! Attacks, and Honeymoon in Vegas – she's done. For someone with so much success, she seems, oddly, underrated. She co-starred with Church in Noam Murro's Smart People, a charming drama. Six years later, they've reunited for a show that looks like a funny, engaging look at divorce, where neither character is portrayed as an antagonist of any kind.
Here's the official synopsis:
The half-hour comedy series DIVORCE (ten episodes) stars Sarah Jessica Parker, who also serves as an executive producer, as Frances, a woman who suddenly begins to reassess her life and her marriage, and finds that making a clean break and a fresh start is harder than she thought.
Divorce premieres on HBO on October 9th at 10pm Eastern.