'Middle School: The Worst Years Of My Life' Trailer: It's Time To Break All The Rules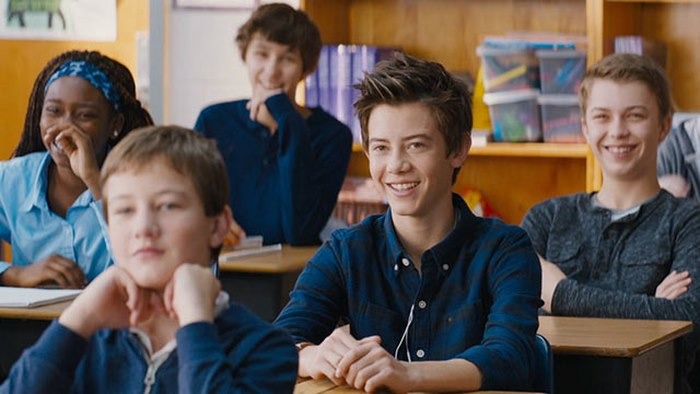 Based on the James Patterson's popular young adult novel, Middle School: The Worst Years of My Life comes from director Steve Carr. Carr is the director behind Next Friday, Dr. Doolittle 2, Daddy Day Care, Are We Done Yet?, and, his last feature, 2009's Paul Blart: Mall Cop. He's directed many harmless kids movies, which is probably the best way also to describe how his upcoming film looks.
Below, watch the Middle School: The Worst Years of My Life trailer.
One thing this kids film has going for it? A fun supporting cast. Starring alongside the child actors are Andy Daly, Lauren Graham, and Rob Riggle. Daly and (most likely) Riggle are playing some of the evil adults in this adaptation. Middle School: The Worst Years of My Life follows Rafe Khatchadorian (Griffin Gluck) – "a pretty ridiculous name, worthy of some kind of villain in a British detective novel," Ethan correctly noted — as he transfers schools. In his new middle school, the principal (Daly) and teachers are more interested in suppressing their students' creativity than letting it flourish. Sick and tired of the school's neverending list of rules, Rafe and his best pal Leo (Thomas Barbusca) decide to break every rule there is in the book.
Middle School: The Worst Years of My Life trailer:
The intended audience of Middle School: The Worst Years of My Life will probably eat this stuff up. The trailer is pretty silly, but the right kind of silly. This is a movie about kids standing up to a laughably evil principal — the type of film most middle schoolers probably want to see around this time of year. Will it appease the adults that'll take their youngsters to it? Impossible to say, but anyone over the age of 10 should at least get a kick out of seeing Rafe's drawings come to life. Those sequences are the standout of the trailer, and they make this adaptation look slightly more appealing than most YA movies.
Here's the official synopsis:
Rafe has an epic imagination...and a slight problem with authority. Both collide when he transfers to an oppressive, rule-crazy middle school. Drowning in do's and don'ts, Rafe and his scheming best friend Leo hatch a plan to break every rule in the school's Code of Conduct. It's Ferris Bueller meets Home Alone as their battle with Principal Dwight explodes into chaos both real and imagined. But Dwight displays his own fiendish creativity, striking back at the rulebreakers. Meanwhile, Rafe struggles to hide his misbehavior from Jeanne, the straight-A, overachieving girl of his dreams, and at home, his mother's boyfriend — a moochy, jack-of-no-trades named Bear — threatens to become his stepfather.
Middle School: The Worst Years of My Life hits theaters on October 7th.