'Ouija: Origin Of Evil' Trailer: Evil Spirits Need Friends, Too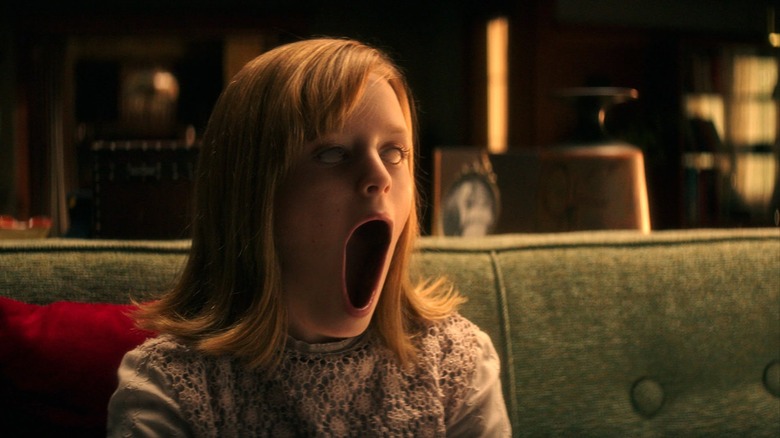 Ouija made over $100 million worldwide. For a horror movie that cost $5 million, that was a more than impressive haul for the Platinum Dunes and Blumhouse Productions' film (which they actually reshot half of, due to poor test scores). With that level of success, a sequel was inevitable, even though Ouija probably didn't leave too many people clamoring for a sequel. Ouija: Origin of Evil, as the title indicates, technically isn't a sequel; it's a prequel.
Below, watch the Ouija: Origin of Evil trailer.
Set in Los Angeles circa 1965, director Mike Flanagan's (Oculus) sequel shows what happens when a phony medium (Elizabeth Reaser) and her two huckster daughters (Annalise Basso and Lulu Wilson) accidentally call a real evil spirit. The trailer begins with Zombies' "Time of the Season," which, after being put to good use in Jame Wan's The Conjuring, comes across as a pretty uninspired song choice.
Ouija: Origin of Evil Trailer
The bit with the slingshot isn't bad, and the "wanna hear something cool?" moment is kind of fun, but otherwise, this is pretty much what's expected from a trailer for a prequel to Ouija. There aren't any real scares in the footage, and it all looks fairly routine. Mike Flanagan directing may inspire some hope among horror fans, though, considering Oculus was mostly praised as a fine piece of horror. That film has some ligament scares; the shot of a light bulb still sends shivers down my spine. Hopefully, he brought a few scares we do not see in the advertisements to Ouija: Origin of Evil.
Here's the official synopsis:
It was never just a game. Inviting audiences again into the lore of the spirit board, Ouija: Origin of Evil tells a terrifying new tale as the follow-up to 2014's sleeper hit that opened at number one. In 1965 Los Angeles, a widowed mother and her two daughters add a new stunt to bolster their séance scam business and unwittingly invite authentic evil into their home. When the youngest daughter is overtaken by the merciless spirit, this small family confronts unthinkable fears to save her and send her possessor back to the other side.
Ouija: Origin of Evil is produced by Platinum Dunes partners Michael Bay, Brad Fuller and Andrew Form (The Texas Chainsaw Massacre, The Purge series, Teenage Mutant Ninja Turtles), Blumhouse Productions' Jason Blum (The Purge and Insidious series), alongside Hasbro's Brian Goldner (Transformers and G.I. Joe series) and Stephen Davis (Ouija). Mike Flanagan directs from a screenplay he wrote with his Oculus and Before I Wake collaborator, Jeff Howard, and Universal will distribute the film worldwide.
Ouija: Origin of Evil opens in theaters October 21st.