Al Pacino Finally Confirms His 'Heat' Character Was Chipping Cocaine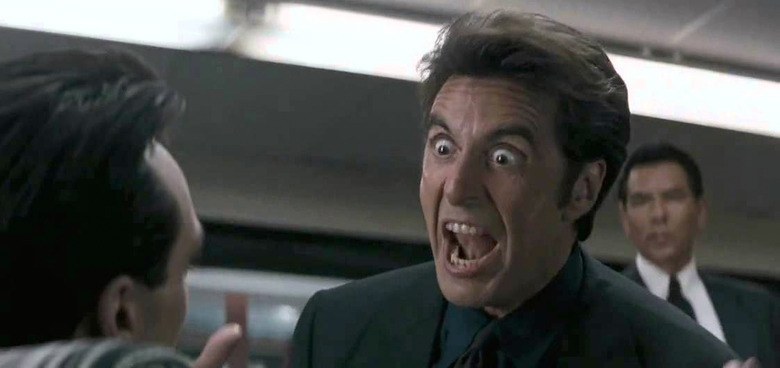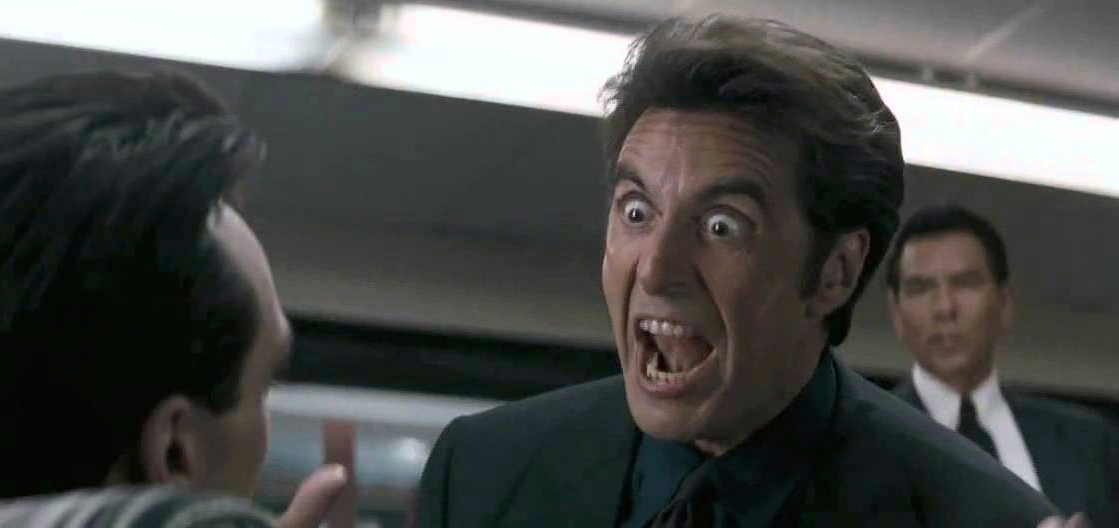 This year doesn't mark a special anniversary for Michael Mann's action-thriller Heat as it's been 21 years since the movie starring Al Pacino and Robert De Niro hit theaters. But last night, The Academy of Motion Picture Arts and Sciences held a special screening of the film, remastered in 4K, ironically reminding us how criminal it is that the film didn't receive a single Oscar nomination. But that's a conversation for another day.
Following the screening, a panel moderated by none other than Christopher Nolan (who was greatly influenced by Heat while shooting The Dark Knight) featured director Michael Mann and leading men Al Pacino and Robert De Niro looking back on the film they made over two decades ago. And while much of the panel included details that longtime fans of the film have probably already heard about, an interesting detail about Al Pacino's Heat character was finally confirmed by the actor himself.
I was lucky enough to be at The Academy's screening last night and during the panel discussion, Christopher Nolan called attention to Pacino and De Niro's performances, discussing the contrast between the two. Pacino elaborated on that detail in the story as something that he wanted to be present in a variety of ways:
"At the onset I thought, I don't know if I mentioned it to Michael [Mann], but I thought there should be that difference in the characters in terms of how they come off, what colors they wear. The more introverted, the more extroverted, I thought that would help with the balance...That was part of it."
Also, Pacino discusses a particular liberty he took with the character which is something that was both talked about between him and Michael Mann, mostly because it reportedly existed in the script for the movie. It's a detail that has been assumed by some viewers for years now, but this is the first time Pacino has actually confirmed it and discussed it in the open:
"I don't know if this has gotten out much. I might be breaking the law now, but I'll say it. The character I played is a guy who's been around, he's done a lot of stuff, and he also chips cocaine. And I always thought that was a choice we made, but yet not showing it because it would be somewhat..."
Michael Mann interrupts to add that "it would attract too much attention" before Pacino continues:
"But there is a scene in it...which never got into the film. And I always wanted to say that some time, just so you know where some of the behavior is coming from. I never thought I'd have the opportunity to say that. I've wanted to say it for 20 years, so thanks for this opportunity."
Rewatching Heat with a crowded theater, you see that Al Pacino's behavior elicits a lot of laughs. Whether it's yelling at Hank Azaria about sleeping with Ashley Judd's character because she has a "great ass" (something which truly scared Hank Azaria too), getting angry about another man watching his television, or screaming, "Don't waste my motherfuckin' time," as he leaves a scrapyard, he's clearly an unconventional detective, and the cocaine is what's fueling these outbursts. Funnily enough, they also serve to make him an intimidating man of the law, leaving you wondering just what he'll do next.