Gold Trailer: Matthew McConaughey Strikes It Rich In Scorsese-Style True Story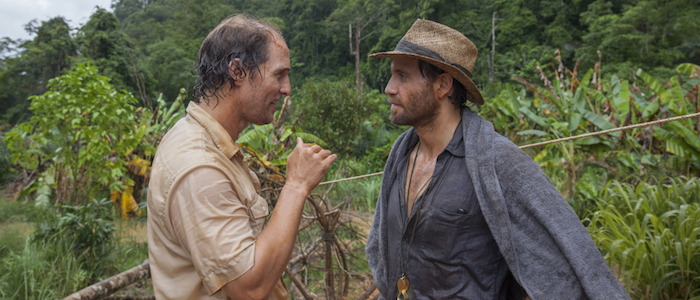 Gold has attracted no shortage of talent over the years. What was once a Michael Mann and Christian Bale project is now the second directorial effort from Stephen Gaghan, who won an Academy Award for writing Traffic and years later made his directorial debut with Syriana. It's been 11 years since that intense drama came out, so after over a decade of waiting to make another feature for theaters — he did direct for television — Gaghan is back with Gold, which stars Matthew McConaughey, Edgar Ramirez, and Bryce Dallas Howard.
Below, watch the Gold trailer.
Based on a true story and set in the early '90s, the film stars McConaughey as a down on his luck business person with a dream. Kenny Wells (McConaughey) goes hunting for gold in the Indonesian jungle. At his side is Michael Acosta (Ramirez), a geologist who discovers with Wells one massive goldmine. Gold co-stars Corey Stoll, Bruce Greenwood, and Toby Kebbell. The film looks far flashier than Syriana, but considering the time period and the story, that makes sense.
Here's the Gold trailer:
Based on this trailer's high energy and the subject matter, Gold is likely bound to draw comparisons to Martin Scorsese, but perhaps Gaghan is doing something different with his film. It could just be how the trailer is cut, too, that makes Gold look as familiar as it does. Whatever the case, the trailer paints Gaghan's latest as an entertaining drama about greed, and we remain excited to see his long-awaited return to directing feature films.
Here's the official synopsis:
GOLD is the epic tale of one man's pursuit of the American dream, to discover gold. Starring Oscar winner Matthew McConaughey as Kenny Wells, a prospector desperate for a lucky break, he teams up with a similarly eager geologist and sets off on an amazing journey to find gold in the uncharted jungle of Indonesia. Getting the gold was hard, but keeping it would be even harder, sparking an adventure through the most powerful boardrooms of Wall Street. The film is inspired by a true story.
Directed by Oscar winner Stephen Gaghan (TRAFFIC, SYRIANA), the film stars Oscar winner Matthew McConaughey (INTERSTELLAR, DALLAS BUYERS CLUB, THE WOLF OF WALL STREET) and Golden Globe nominees Edgar Ramirez (HANDS OF STONE, THE GIRL ON THE TRAIN) and Bryce Dallas Howard (JURASSIC WORLD, PETE'S DRAGON). The film is written by Patrick Massett & John Zinman and financed by Black Bear Pictures. Black Bear's Teddy Schwarzman and HWY 61's Michael Nozik served as producers alongside Massett, Zinman, and McConaughey. HWY 61 partner Paul Haggis, Richard Middleton and Black Bear's Ben Stillman are executive producers.
Gold opens in theaters December 25th.