Saving Banksy Trailer: A Documentary About Removing Street Art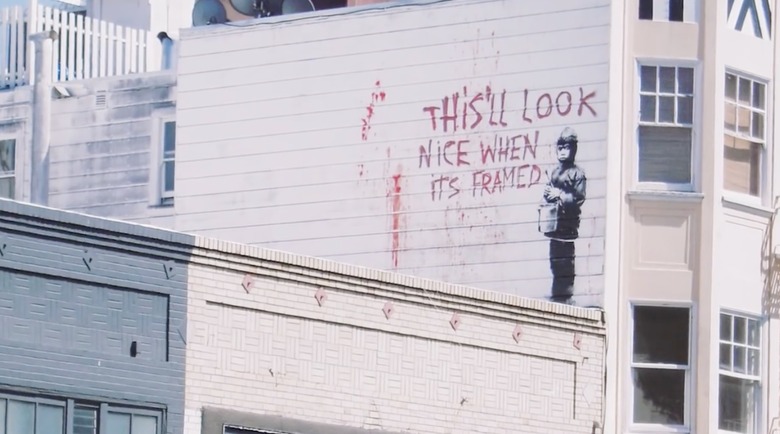 One of my favorite documentaries is Banksy's Exit Through The Gift Shop, which premiered at the 2010 Sundance Film Festival. That film, which was directed (or at very least edited) by Banksy himself, takes a look at the ride of street artist Mr. Brainwash using his story as a cautionary tale for the industry built around this artistic medium. If you haven't seen it, I highly recommend it.
Films like HBO Documentary Films' Banksy Does New York have come out, but none of them have been on the same level as Exit Through The Gift Shop. A trailer for a new documentary feature film titled Saving Banksy has shown up online, promising to tell "the true story of one misguided art collector's attempt to save a Banksy from destruction and the auction block." In the same way that Exit using the rise of a new street artist to explore deeper points, Saving Banksy also seems to use the main narrative to explore a broader issue of the value of street art in today's society. Watch the Saving Banksy trailer now embedded after the jump.
Saving Banksy Trailer
I'm always a bit worried when there are so many talking head interviews used in a documentary trailer as I usually prefer nonfiction films to show, instead of tell, me the story. But the subject of this documentary is fascinating to me, and I'm interested to see how the topic is presented and explored.
The documentary was directed by Colin Day with narration by Paul Polycarpou, and interviews with the top street and graffiti artists from across the globe, including Ben Eine, Risk, Revok, Niels Mueman, Blek Le Rat, Anthony Lister, Doze Green, Hera and Glen E Friedman. "Saving Banksy – It's not art unless you can sell it for lots of money." Saving Banksy doesn't have a release date yet, but you can find out more information on SavingBanksy.com. Here are some pull quotes about the film that have been printed:
A documentary about the legality, politics, and ethics of removing street art from the street, and what happens once you have a giant unauthenticated Banksy stored in your bedroom closet" – Vandalog
Saving Banksy focuses on the street artist's oblique relationship to the art market – an anonymous artist whose public works aren't for sale. Or are they? This documentary would read like an international art heist picture if the outrageous profiteering on display was actually illegal. – Burnaway
Saving Banksy delivers insightful dialogue that challenges attitudes around the interplay of art and ownership. – Channelnonfiction