'Underworld: Blood Wars': The Lycans Are Out For Selene's Blood This Time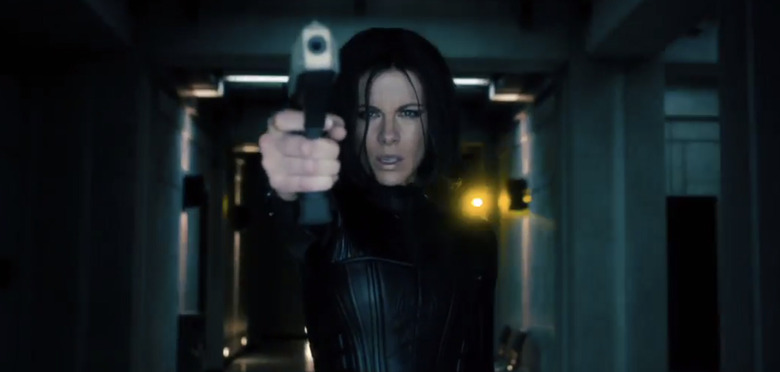 It's hard to believe, but we're coming up on the fifth film in the Underworld franchise. Originally, this sequel started out as a reboot that Kate Beckinsale wasn't going to be involved in, but the actress returned to the lead role as Selene, and the movie was retooled as just another sequel. Now the first trailer for Underworld: Blood Wars has arrived, and you'll see that it's not much different than the first Underworld movie from all the way back in 2003.
Watch the first Underworld Blood Wars trailer after the jump.
This time, it's Game of Thrones and Outlander star Tobias Menzies as Marius leading the Lycan clan in pursuit of Selene, whose blood they need to make them invincible to the vampires and their Death Dealers. If that sounds familiar, that's because the original Underworld movie had the Lycans in pursuit of the blood of Michael Corvin so they could create a powerful vampire/Lycan hybrid that had his pure Corvinus bloodline.
Presumably, they think the same thing will happen if they use Selene's blood to strengthen themselves. In fact, it appears they might even succeed, because the climax of the trailer features David (Theo James) the rest of his people surprised to see Selene back, this time sporting some blonde in her hair, likely to differentiate what seems to be a resurrected version of Selene from her old self. The official synopsis appears to confirm that hunch as well:
Underworld: Blood Wars follows Vampire death dealer, Selene (Kate Beckinsale) as she fends off brutal attacks from both the Lycan clan and the Vampire faction that betrayed her. With her only allies, David (Theo James) and his father Thomas (Charles Dance), she must stop the eternal war between Lycans and Vampires, even if it means she has to make the ultimate sacrifice.
Does this mean that we won't see the end of Selene in this movie and she'll be back for Underworld 6? It probably depends on how this film performs. The big question is where is Selene's hybrid daughter that she had with Michael Corvin? Maybe we'll find out in this sequel from director Anna Foerster (Criminal Minds, Outlander) and writer Cory Goodman (The Last Witch Hunter, Priest).
Underworld: Blood Wars arrives on January 6, 2017.