James Franco Will Play A Pick-Up Artist In Neil Strauss' 'The Game'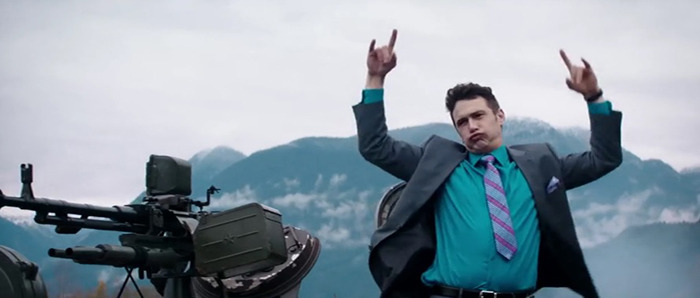 We may receive a commission on purchases made from links.
An adaptation of Neil Strauss' New York Times bestseller The Game: Penetrating the Secret Society of Pickup Artists has been in the works, on and off, for over a decade now. Back in 2005, Chris Weitz (About a Boy) was attached to direct The Game, which is a look at the life of a pickup artist. A couple of years later, David Levien and Brian Koppelman (Billions) took a shot at The Game, but for whatever reason, it still didn't get made. Then James Franco became involved, and again, nothing more came of the news. The actor and producer has, however, returned to the project, which is being fast-tracked and will possibly go into production next year.
Below, learn more about the James Franco The Game adaptation.
Deadline reports The Game is a part of a nice new deal struck between Franco and Demian Gregory. Gregory's Aristocracy Group and Composite Media Capital will produce and finance four films with Franco's Rabbit Bandini Productions, with each picture costing between $15 million-$20 million. Deadline writes that the "talent-driven stories" will range "from comedy to thriller and high-end drama."
In The Game, Franco isn't playing Strauss; he's playing Strauss' guide, Mystery. Mystery is the man who introduces Strauss — a former writer for Rolling Stone who's now a contributing editor — to the secret society of pickup artists and all its tips and rules for seducing women.
In a statement, Strauss says:
Nearly every person I meet has a strong opinion on The Game, whether they've read it or not. For some, it changed their lives and led to marriage and children. For others, it is the one of the most terrifying things to ever happen to the dating world. For me, it is both, but I'm forever grateful for my time in the underground world of pick-up artists because it showed me that a guy who had given up all hope of ever being comfortable with himself and others could change.
How Strauss describes the story, and what it means to him today, sounds slightly more nuanced than the version of The Game most people are probably already imagining: 90 minutes or so of nothing but sleazy men trying to pick up women. It appears Strauss will remain the protagonist of his story in the film adaptation, so Franco is taking on more of a supporting role with Mystery, a man who has a penchant for black nail polish, cowboy hats, and chin piercings. With Franco taking on the role of the pickup artist, we should expect another, at the very least, memorable transformation from the actor. No director is currently attached to The Game.