The Toy Box: Bill & Ted's Excellent Adventure, Star Wars, Rick & Morty And More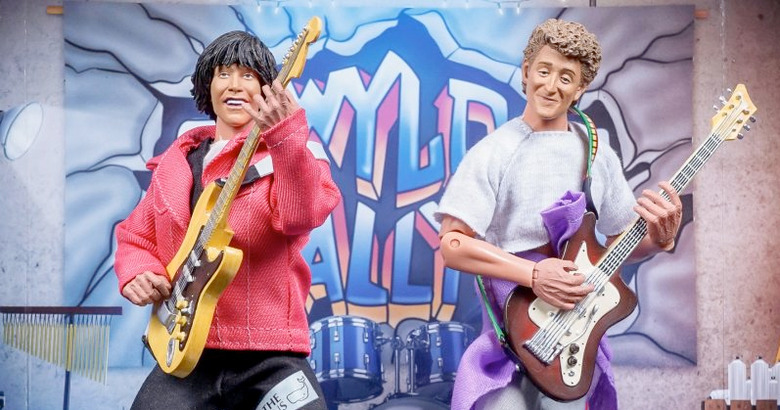 The Toy Box is a recurring feature at /Film that rounds up some of the newest and coolest collectibles, decorations, gadgets and other memorabilia that you nerds might want for your shelves.
In this edition, we've got an outstanding two-pack of figures featuring the titular characters from Bill & Ted's Excellent Adventure, a new picture disc vinyl set of the soundtrack for Star Wars: A New Hope, a fun Rick and Morty game involving Mr. Meeseeks and more.
See everything in The Toy Box after the jump.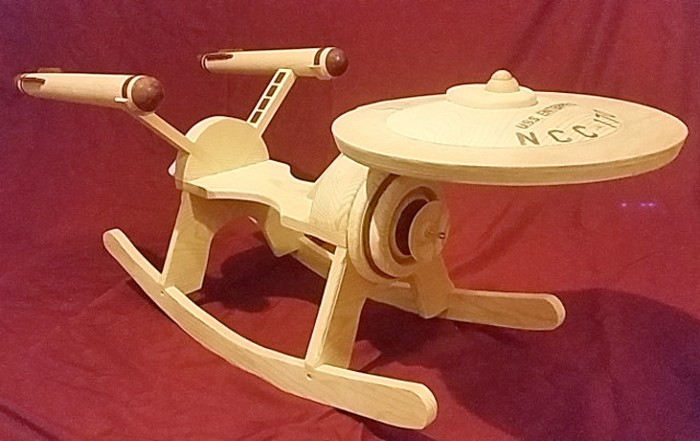 Star Trek: USS Enterprise Children's Rocking Chair
Plenty of parents want to introduce their kids to all the nerdy stuff they loved as a kid, and sometimes you have to start early. That's why Etsy shop G and G Rockers from San Diego, California have created this wooden rocking chair version of the USS Enterprise from Star Trek. As you can see, it's made of wood carefully pieced together to take the form of the classic ship. It's a futuristic toy with an old school design. If your kids are going to do some rocking back and forth it might as well be in Starfleet's most famous ship.
You can pick up the USS Enterprise rocking chair on Etsy for $195, but because there appears to be an influx of interest, any orders placed after September 2nd won't arrive until Christmas.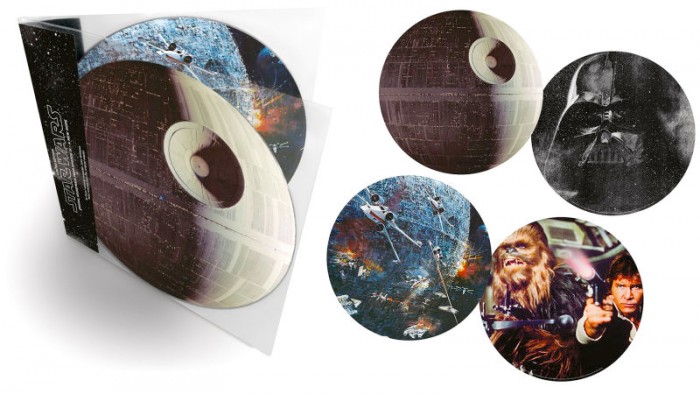 Star Wars: A New Hope: Vinyl Picture Disc Soundtrack
There's already an entire set of every single soundtrack from the live-action Star Wars film on vinyl, but those only had plain black discs. If you're more of a picture disc vinyl collector, then this new edition of the Star Wars: A New Hope soundtrack will be must-have for your collection.
In addition to having the entire Star Wars: A New Hope soundtrack, some other memorable tracks that don't appear in the movie will be included in this particular set, including The Imperial March, which doesn't show up until The Empire Strikes Back. Even if you have the other vinyl set, this one just might be worth it if only for that awesome Death Star disc.
You can pre-order the new Star Wars vinyl for $34.99 at Amazon right now, but it doesn't arrive until September 30th, along with all those other Rogue One goodies on the way.
There's a variety of preview items for #HalloweenTime, but think this #Tiki #HauntedMansion piece is our favorite
A photo posted by Parks And Cons (@parksandcons) on
The Haunted Mansion: Hitchhiking Ghost Tiki Mug
There are plenty of exclusive goodies available at Disneyland that isn't available anywhere else, and for fans of The Haunted Mansion, one more has just been revealed. A Hitchhiking Ghost Tiki Mug is coming to Trader Sam's Enchanted Tiki Bar at the Disneyland Hotel with rumors (via Inside The Magic) suggesting it could be on sale as early as September 9th, though no price has been mentioned. There's no word on whether or not it will be available at Disney World, but keep an eye out just in case.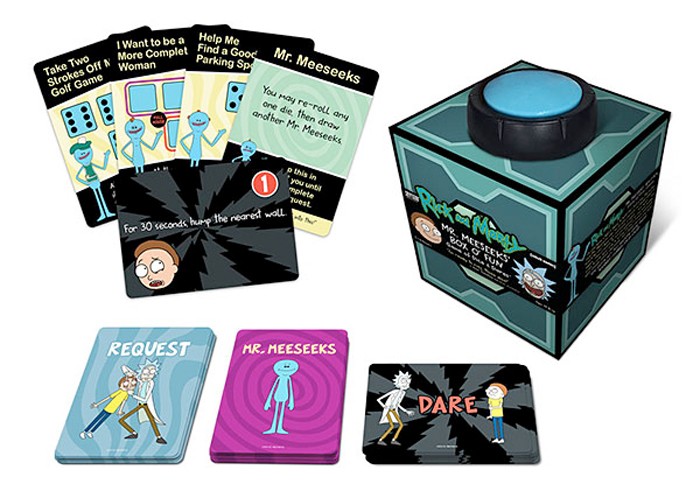 Rick & Morty: Mr. Meeseeks Box O'Fun
You're not going to have the power to summon a real Mr. Meeseeks to help you with life's problems anytime soon, but the next best thing might be a Rick and Morty game that comes inside a real Mr. Meeseeks box.
ThinkGeek describes the game like this:
For game play, each player draws a Request card that details simple tasks like "Make me a Sandwich" or "I want to be a More Complete Woman" that has an associated roll of the dice for completion. Give the dice a roll to see if you complete the Request. If not, players must press the button and summon a Mr. Meeseeks. Each Mr. Meeseeks card will either help you out or hurt your chances. Keep drawing Mr. Meeseeks until your Request is complete. Score points by completing Requests or doing crazy, embarrassing Dares.
That sounds like a decently fun game to play with your friends. If anything, paying $34.99 for the Mr. Meeseeks box that actually has an audio recording by co-creator and star Justin Roiland doesn't sound like a bad deal either.
Bill & Ted's Excellent Adventure: NECA's Action Figure Two-Pack
NECA teased a set of figures for Bill and Ted's Excellent Adventure last fall, and now nearly a year later, that set is finally close to being on your shelf. The Wyld Stallyns two-pack will be released sometime later this month, coming with Bill S. Preston, Esquire and Ted "Theodore" Logan, and ToyArk has gotten a close-up look at the figures above.
Both of the figures come with guitars for maximum rocking out, and there will also be a cardboard Telephone Booth Time Machine. I wish it shipped with a better quality version of that iconic time machine, but we'll take what we can get. The figures stand at 8" tall, have cloth outfits, 25 points of articulation and look most excellent. If you're looking for Rufus, check out that Blu-ray collector's edition of the movie that comes with NECA's Rufus figure to accompany Bill and Ted.
You can pre-order the two-pack figure set over at Entertainment Earth for $54.99, and it should be out sometime this month.
***
That's all for The Toy Box for now. If you're looking for some superhero goodies and other memorabilia, be sure to check out the third page of Superhero Bits or our recurring Cool Stuff articles.
Read the previous edition of The Toy Box right here.