'Young Frankenstein' Returning To Theaters For One Night Only In October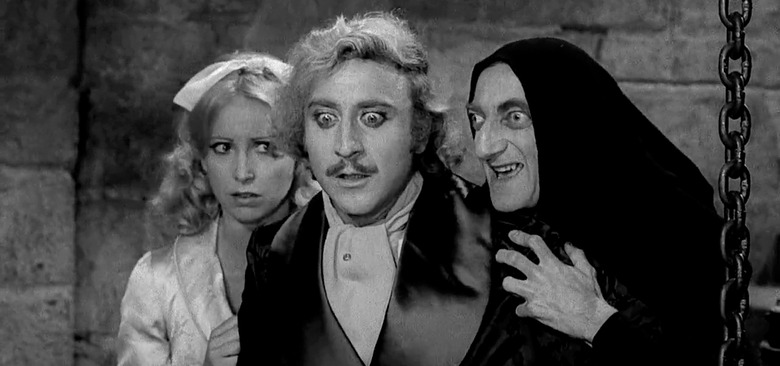 Last weekend, many movie theaters paid tribute to the late Gene Wilder by bringing both Willy Wonka and the Chocolate Factory and Blazing Saddles back to the big screen. However, it's a testament to how big of an icon Gene Wilder is that we'll now be getting another weekend where movie theaters honor the comedy legend.
Young Frankenstein will be returning to theaters for one night only in October, and this presentation is a little more special than most nostalgic screenings like this because director Mel Brooks will be providing an introduction live from the 20th Century Fox backlot. Get the details on when and where you can catch Young Frankenstein in theaters again after the jump.
Fathom Events is behind this special screening of Young Frankenstein which will take place on Wednesday, October 5th only. Due to the live introduction provided by Mel Brooks, the screenings will be happening at 8pm Eastern, 7pm Central, 6pm Mountain and 5pm Pacific. The introduction will have Brooks giving a quick tour of the Fox studio lot where the director has his own boulevard and there's even a Young Frankenstein mural. He'll also show the location of the film's original shoot.
If you haven't seen Young Frankenstein, this is your chance to see it how it was meant to be seen. Mel Brooks captures the style of classic horror and injects in with pitch perfect parody. It's a comedy classic, and even more impressive is that it came out the same year as Blazing Saddles. Plus it has an impressive cast surrounding star Gene Wilder including Peter Boyle, Marty Feldman, Cloris Leachman, Teri Garr, Madeline Kahn and even Gene Hackman. Here's the trailer if you've never laid your eyes on it:
Tickets for Young Frankenstein are already available at Fathom Events right now, and that's where you can find the nearest theater among the more than 500 participating locations.