Rebecca Ferguson Joins Hugh Jackman In Musical P.T. Barnum Biopic 'The Greatest Showman'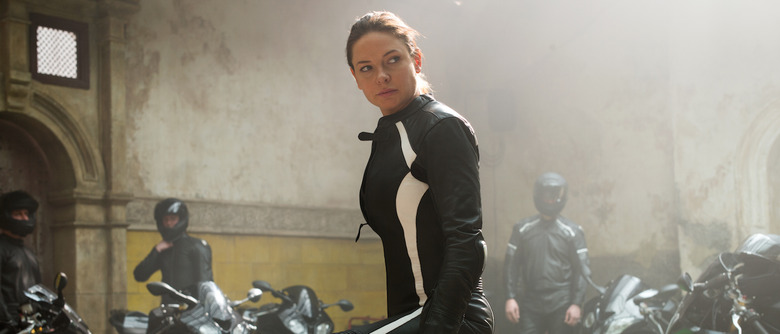 The Greatest Showman is collecting a pretty great cast. Hugh Jackman has been set to lead the P.T. Barnum musical biopic for several years already, and in recent months the project has really started to pick up steam with Michelle Williams, Zac Efron, and Zendaya all coming aboard as well. Now the latest addition is Rebecca Ferguson, the Swedish actress who stole scenes last year in Mission: Impossible – Rogue Nation. 
According to The Hollywood Reporter, Ferguson will play Jenny Lind, also known as the "Swedish Nightingale." The opera star was one of the most highly regarded singers of the 19th century. In 1850, she arrived in America for a tour at the invitation of P.T. Barnum, creator of the Greatest Show on Earth (a forerunner of the Ringling Bros. and Barnum & Bailey Circus). Barnum and Lind parted ways in 1851 but she continued her stateside tour until 1852. Jackman will lead the cast as Barnum, and Efron his right-hand man. Williams is Jackman's love interest, and Zendaya is a trapeze artist.
Michael Gracey is directing The Greatest Showman as his feature debut. (He's a commercials director who's been attached to several high-profile projects before including Naruto, the Elton John biopic Rocketman, and the YA fantasy Daughter of Smoke and Bone, but none of them have panned out quite yet.) The original musical has a script by Michael Arndt (Star Wars: The Force Awakens) and songs by Justin Paul and Benj Pasek (NBC's Smash, Broadway's A Christmas Story: The Musical).
Ferguson's credits include Starz's The White Queen and Dwayne Johnson's Hercules, but her big breakthrough came in Mission: Impossible – Rogue Nation. She co-starred with Meryl Streep and Hugh Grant in Florence Foster Jenkins this summer and will be seen again this fall with Emily Blunt in The Girl on the Train. Her other upcoming credits include Daniel Espinosa's Life and Tomas Alfredson's The Snowman.
Shooting on The Greatest Showman is set to begin this fall. No release date has been announced.