'Goat' Red-Band Trailer: Guys Gone Wild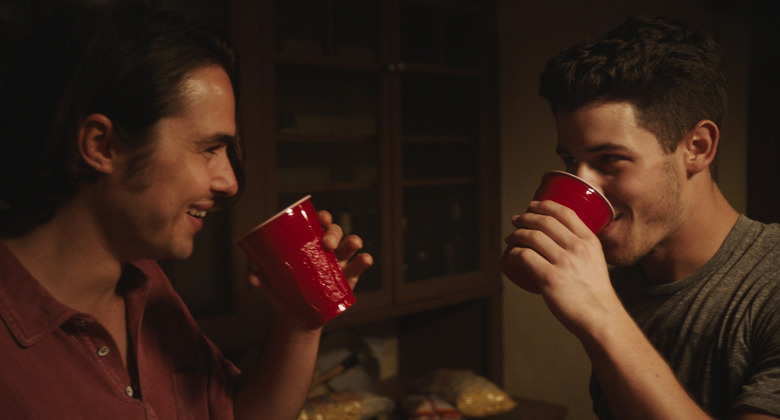 That slight chill in the air means we're right at the time of year when thousands of teenagers begin descending on college campuses across the country. Some will meet new friends or mentors or discover new passions. A not inconsiderable proportion of the population will join the Greek system. And a few of those kids might find themselves subject to the kind of brutal hazing depicted in Andrew Neel's Goat.
Scripted by David Gordon Green and based on the memoir by Brad Land, Goat premiered at Sundance earlier this year to promising reviews. Ben Schnetzer (last seen casting spells in Warcraft) stars as Land himself, a 19-year-old college kid who pledges the same fraternity his older brother (Nick Jonas) already belongs to. But the protection and friendship Brad was promised come at a steep cost, as the hazing rituals get more and more intense, with painful results. James Franco also stars, as an alum who can't quite seem to let go of Phi Sigma Mu. Watch the NSFW Goat red-band trailer below. 
Goat will be available in theaters and on demand on September 23.
Reeling from a terrifying assault over the summer 19-year-old Brad Land (Ben Schnetzer) starts college determined to get his life back to normal. His brother Brett (Nick Jonas) is already established on campus and with a fraternity that allures Brad with its promise of protection popularity and life-long friendships. Brad is desperate to belong but as he sets out to join the fraternity his brother exhibits reservations a sentiment that threatens to divide them. As the pledging ritual moves into hell week a rite that promises to usher these unproven boys into manhood the stakes violently increase with a series of torturous and humiliating events. What occurs in the name of 'brotherhood' tests both boys and their relationship in brutal ways.