'The Crow' Reboot Will Shoot In January 2017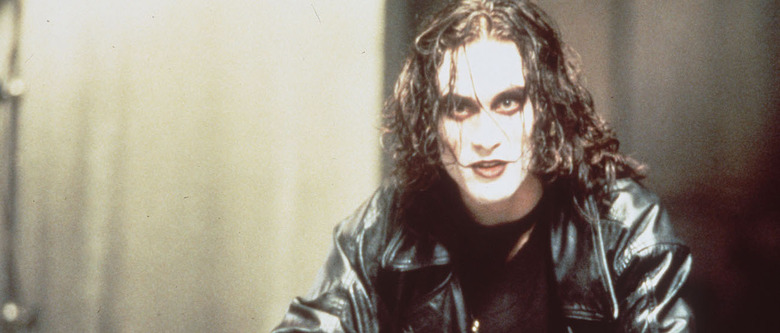 Relativity's The Crow reboot has had so many stops and starts over the years, it's gotten hard to keep track. It's gone through several potential directors and as many potential stars, it's weathered legal troubles and financial woes, and all along it's suffered the deep skepticism of fans. So I totally understand if you don't quite believe this next sentence. According to a new report, The Crow will begin shooting in January with director Corin Hardy and star Jason Momoa. 
TheWrap has heard from "multiple individuals" that The Crow is on track to start filming in early 2017. Principal photography will get underway after Momoa completes his work on Justice League, which arrives in November 2017, but before Momoa gets started on Aquaman, which arrives in 2018. Momoa's casting was first revealed last month.
Like Alex Proyas' 1994 film starring Brandon Lee, The Crow follows a young man named Eric who becomes the victim of a brutal attack. He and his fiancée are left for dead, but some time later, Eric is resurrected by a mystical crow. Eric takes the opportunity to seek revenge on those responsible for their deaths. However, Hardy's reboot is said to be a more faithful adaptation of the film's source material, the graphic novel by James O'Barr.
Relativity has tried for years to mount a re-adaptation of The Crow. By the time Hardy signed on in 2014, several directors had already come and gone including F. Javier Gutiérrez, Juan Carlos Fresnadillo, and Stephen Norrington. Hardy himself nearly dropped out in 2015, after Relativity declared bankruptcy, and again this past March, after the company ran into legal issues over the rights. Before Momoa signed on in August, Jack Huston and Luke Evans were among of the stars who'd been attached to the role at various points.
Indeed, reports that The Crow is about to start shooting have become something of a fall tradition. In 2014 producer Ed Pressman told press that The Crow would shoot in spring 2015. After spring 2015 came and went, Hardy went on the record in 2015 to say The Crow would get underway in 2016. Now here we are, nearing the end of 2016, and discussing claims that The Crow will finally, at long last, no-seriously-for-real-this-time, enter principal photography in 2017.
Like I said, it's perfectly reasonable at this point if you've decided that you won't believe this film actually exists until you're sitting in the theater watching it. But there's something kind of appropriate about the fact that this film, just like its hero, simply refuses to stay dead. Maybe we'll find ourselves back here in a year discussing a teaser trailer, or maybe we'll just meet again to discuss claims that shooting will get underway in 2018. Either way, I'd bet this won't be the last we hear about The Crow.