Watch ILM's Amazing VFX Reel For 'Star Wars: The Force Awakens'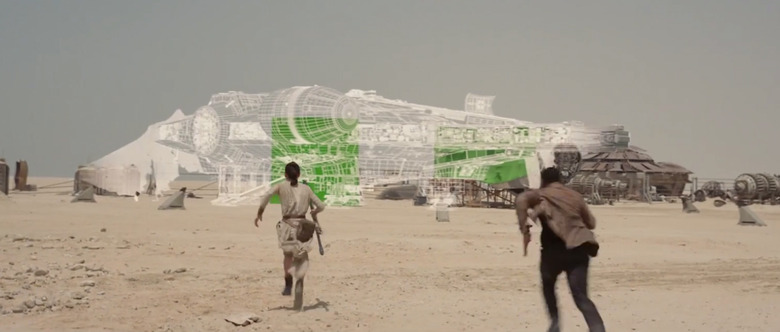 You'd be hard-pressed to find a casual filmgoer who could name you any visual effects company other than Industrial Light & Magic. Thanks to the company's relationship with the Star Wars saga, the special effects creators easily the most recognizable name in their business, followed closely by Weta Workshop, due to their ties to The Lord of the Rings and The Hobbit. Now the special effects house has released a visual effects reel showing off the incredibly detailed and extensive work they did on Star Wars: The Force Awakens.
Yes, even though plenty of behind the scenes videos and interviews leading up to the release of The Force Awakens showed off all the practical setpieces, aliens, vehicles and more, there were still plenty of digital effects needed to bring the Star Wars sequel to life. Check out The Force Awakens visual effects reel after the jump and be wowed by the work ILM did for this movie.
Back in January, our own Peter Sciretta actually sat down with Patrick Tubach, ILM Visual Effects Supervisor, and Roger Guyett, Visual Effects Supervisor and Second Unit Director, where they revealed that The Force Awakens actually had more visual effects shots than Star Wars: The Phantom Menace. And as you can see in the reel, even though there is some practical work on display, almost every shot requires some kind of visual effect, so that's not all that surprising.
One interesting part comes when we see the Millennium Falcon digitally added into the shot where Rey and Finn are running towards it to escape the pursuing TIE Fighters. You can actually see a practical side portion of the Falcon, including the boarding ramp, but J.J. Abrams just have decided he wanted the Falcon to be in a different position, because the digital version of the vehicle is shifted in the final shot.
Personally, I was most impressed by the shot of the exterior of the Star Destroyer which moves into the interior to show us the details inside the docking bay of the TIE Fighters. There are even a couple of TIE Fighter pilots who I was surprised to learn were created entirely with digital effects while composite shots of some real Stormtroopers were used for the background. The layers upon layers of digital work are mind-boggling, especially for that Star Destroyer crashed in the sand dunes as Rey drives by on her speeder.