Joe Wright's 'Darkest Hour' Gets Fall 2017 Release Date; Ben Mendelsohn, John Hurt & More Join Cast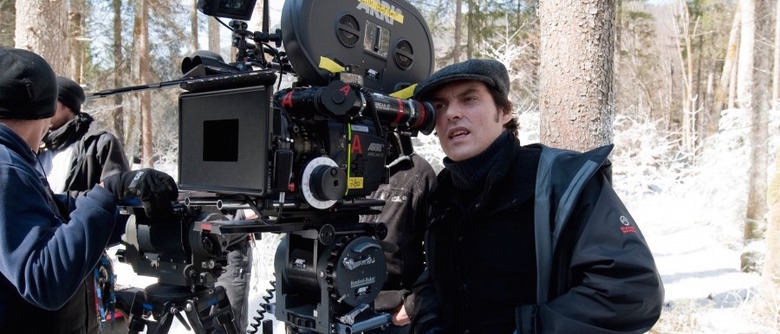 Joe Wright is coming off an enormous misfire. The filmmaker behind Atonement and Hanna took a huge swing with Pan, his biggest project to date, and it may have lost Warner Bros. around $150 million. Thankfully, the financial failure of Pan doesn't seem to be slowing down the talented filmmaker. He recently directed a new episode of Black Mirror, and now his Winston Churchill project, Darkest Hour, has been picked up by Focus Features for a 2017 release.
Below, learn more about the Winston Churchill film.
Darkest Hour will star Gary Oldman as Churchhill in the days after he became the Prime Minister of Britain. Wright's film will show Churchill choosing to fight the Nazis instead of agreeing to one of their peace offerings. Adolf Hitler would've left Western Europe if they could attack the USSR without Britain getting involved. Churchill didn't trust Hitler, and at the time he was trying to convince the United States to join the war, so he declined their offer.
Here's the synopsis Focus Features released for Darkest Hour:
Within days of becoming Prime Minister of Great Britain, Winston Churchill must face one of his most turbulent and defining trials: exploring a negotiated peace treaty with Nazi Germany, or standing firm to fight for the ideals, liberty and freedom of a nation. As the unstoppable Nazi forces roll across Western Europe and the threat of invasion is imminent, and with an unprepared public, a skeptical King, and his own party plotting against him, Churchill must withstand his darkest hour, rally a nation, and attempt to change the course of world history.
The plot summary isn't the only new information Focus has released for Darkest Hour. They also announced a release date for the project: November 24th, 2017. Gary Oldman isn't the only actor attached to the drama anymore, either. The one and only John Hurt will play Neville Chamberlain, the Prime Minister before Churchill; Lily James (Cinderella) will co-star as Churchill's personal secretary, Elizabeth Nel; Ben Mendelsohn (Bloodline) will play the "skeptical" King George VI; and Kristin Scott Thomas (I've Loved You So Long) has landed the role of Clementine Churchill, the prime minister's wife.
Wright's project has unsurprisingly enlisted a mighty fine group of talents. The Academy Award-nominated Anthony McCarten (The Theory of Everything) wrote the script and is producing the film. Refreshingly, McCarten isn't telling Churchill's life story but is instead focusing on a defining moment from his life — which is what the most distinct and compelling biopics tend to do these days.