'Black Panther' Will Be "Darker" And "Grittier," Says Chadwick Boseman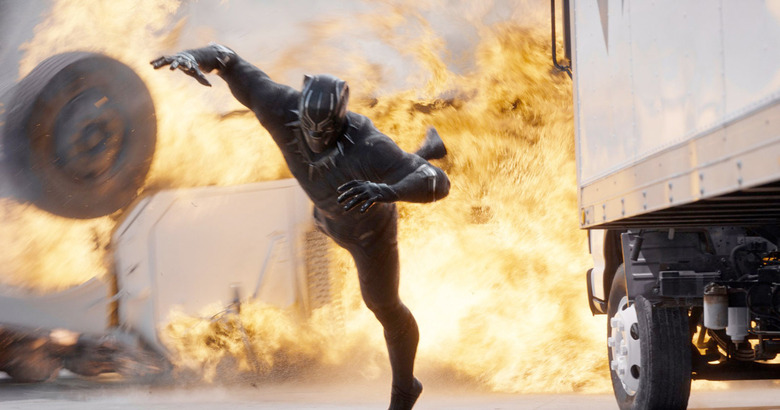 The Marvel cinematic universe has tended to be lighter in tone, especially compared to the gloom and doom of the DC universe. But within the MCU, some films are funnier than others, with Ant-Man and Guardians of the Galaxy on one end of the spectrum and the relatively somber Captain America films on the other. And Black Panther? According to star Chadwick Boseman, it'll fall on the "darker" and "grittier" side of things. 
Boseman spilled the Black Panther details in an interview with Comic Book Resources.
It's funny, because on one hand, the Marvel movies that I've liked the most are the ones that are funny. I love "Ant-Man." But for me, most of the time the darker superhero movies are the ones that I gravitate towards, that I love the most. So I'm glad that I'm not in an "Ant-Man." I'm glad that the tone of ["Black Panther"] may be a little grittier. I just wanted to establish that from the beginning, that that's what we were doing. That that's what I intend to do. I feel like we'll end up in a place that I've always wanted to be when I look at superhero movies. Those are the ones I like the most. It's exciting to do that.
Boseman's comments on the Black Panther tone shouldn't come as a huge surprise. While Black Panther wasn't a central part of Captain America: Civil War, he was in it enough to make his presence felt. And the vibe he gave off was stately and dignified, as befits a king of Wakanda. A darker, grittier film would suit the character's personality better than a funnier one a la Ant-Man. We've yet to see a Marvel movie with no jokes whatsoever, and Black Panther will surely have some as well. But T'Challa himself doesn't seem like the jokester type.
Which isn't to say he's untouchable and perfect, either. Boseman spoke a bit about his character's arc in Civil War, which (spoiler alert) sends him on a revenge mission but ends with him showing mercy toward the villain, Baron Zemo.
I feel like you get a chance to see that [Black Panther]'s not going to be a selfish ruler. He's not going to be a dictator. He's not going to be a person that does things purely for his own gain. That he does have a heroic aspect at the heart of a hero; of a leader. You can pull for him, because he's merciful. And it leaves room also for him to do things that are not necessarily perfect.
A few people have said to me, "I thought you were a villain at first." They didn't have the prior history of the character. And they enjoyed that. They thought I was going to end up being a villain. That's telling to me. I feel like it's a good thing that we were able to create that context where he's going after things for his own reasons, not necessarily good or bad, but ultimately that you can create something that is universally good — that merciful aspect — I think is a good thing for the character.
Captain America: Civil War did an impressive job of setting up Black Panther as a new leading man in the Marvel universe, and Boseman made the most of his limited screentime. Black Panther looks like it's in good hands, with Ryan Coogler at the helm, Joe Robert Cole co-writing, and Michael B. Jordan, Lupita Nyong'o, and Danai Guriria all starring alongside Boseman. The film arrives February 16, 2018.