'The Walking Dead' Season 7 Trailer: Negan Lays Down The Law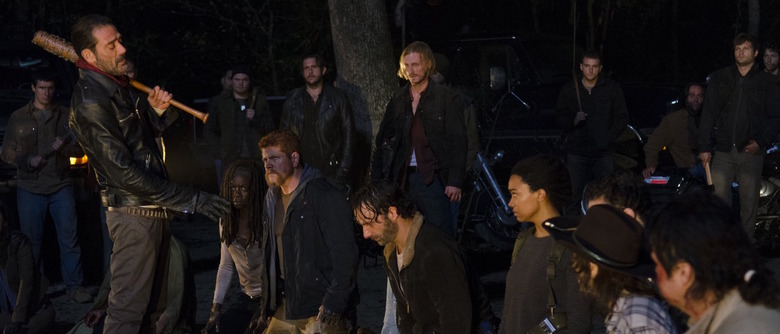 It may still feel like summer outside, but fall is just around the corner. And with those cool breezes and lower temperatures will come the season 7 premiere of The Walking Dead, which infamously finished its sixth season on a cliffhanger back in April.
The characters of The Walking Dead have every reason to hate Negan, and fans may resent the show for cutting away just before we learned who was on the other end of Lucille. But Negan himself is clearly loving the attention. The Walking Dead season 7 trailer is all about the new big bad played by Jeffrey Dean Morgan, and while it doesn't offer much in the way of clues about his victim, it gives you plenty of time to get acquainted with the man himself. Watch it below. 
Everything you have belongs to Negan now. #TWD returns Sunday, October 23.
https://t.co/uQxdBACQvI

— The Walking Dead AMC (@WalkingDead_AMC) September 5, 2016
Judging by the way Morgan strutted onstage at the Walking Dead Comic-Con panel this summer, Lucille in hand and a swagger in his step, he loves playing this character. And no wonder. Negan is a formidable character, instantly terrifying yet oddly charismatic. The new Walking Dead season 7 trailer has him explaining the new world order to his poor victims. "You earn what you take," he tells them. "Whatever you had going for you, that's over." And he flashes a big scary grin as he warns, "Thing is, I am everywhere."
While the latest promo takes care not to give away any new information about Negan's victim, producers have promised viewers will get an answer soon. "Yes, who was at the receiving end of Negan's bat will be revealed in the first episode," said Greg Nicotero, who directed the season 7 premiere. And they've learned their lesson from the backlash, they swear. "I think everyone on The Walking Dead creative team has taken note of that, and I don't know that I would expect a similar cliffhanger at the end of season 7," admitted Robert Kirkman.
Although Negan is at the top of everyone's mind right now, season 7 will have much more to offer. We'll get to meet Ezekiel, played by Khary Payton, and his pet tiger Shiva, and the rest of the Kingdom. "That world is expanding, it's getting more complex, we're going to find more people we haven't met before, living in the apocalypse and figuring out how to survive," said Gale Ann Hurd at Comic-Con. And some of those new people will bring new conflicts. "We're heading toward one of the greatest showdowns I think we've had in the show since Terminus," teased star Andrew Lincoln.
The Walking Dead season 7 premieres Sunday, October 23.