Please, Stop Bugging James Gunn About The 'Guardians Of The Galaxy Vol. 2' Trailer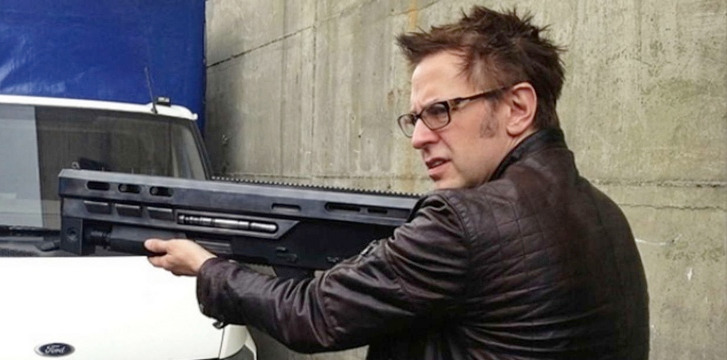 If there's one thing fans are clamoring the most for after San Diego Comic-Con 2016, it's the footage from Guardians of the Galaxy Vol. 2 that played exclusively for the Hall H audience at the Marvel Studios panel. However, it seems some fans may be a little too excited to see the first footage from the sequel, because director James Gunn is getting a little annoyed with all the incessant questions about the Guardians of the Galaxy 2 trailer release date.
Find out what James Gunn had to say on the matter after the jump.
James Gunn has taken it upon himself to engage with the fans, clear up some rumors, and offer commentary on some of the more relevant and controversial comic book movie discussions around the web. So it should come as no surprise that he took to Facebook to hopefully get fans to take a chill pill when it comes to their anticipation of the Guardians of the Galaxy 2 trailer. Here's what James Gunn posted to Facebook before the weekend:
I appreciate and am grateful that so many of you want to see the Guardians of the Galaxy Vol. 2 trailer. I am fortunate that so many folks are interested in our film.
However, the schedule for the trailers has been decided upon and no matter how many times you request on social media that they come out faster – which has lately been happening dozens of times a day – what is done is done.
And, yes, usually this is just people being enthusiastic and begging for the trailer, or telling me how they're going to die if they don't get it, or simply asking when it's going to come out even though I can't answer. That's all fun and fair – again, I appreciate the interest. But when I post a photo of a much needed getaway to Palm Springs and someone comments "Why aren't you working on the goddamn Guardians trailer?" or I post a tribute to the passing of Gene Wilder and someone comments "Where the fuck is the trailer, a**hole?" — well it gets a little uncool.
I don't know why I'm saying this. If you have the attention span to read all this you're probably not the jerk cursing at me about a trailer on social media. But I guess it makes me feel a little better.
Hope you all have an amazing day.
It undoubtedly has to get annoying that every single post Gunn makes to Facebook results in someone asking a question to which they know they probably won't get an answer. There's absolutely no reason to be rude or belligerent about the release of a movie trailer. Gunn saying that this kind of behavior is "a little uncool" is an understatement. It's just downright rude and stupid. Plus, Gunn already explained why the footage from Comic-Con wouldn't be online anytime soon.
Marvel Studios already has a set plan as to how they're going to promote Guardians of the Galaxy Vol. 2, and James Gunn has no way of getting it to you sooner. So if you're one of the jerks out there who keeps bugging the filmmaker about this, knock it off, and just wait patiently for the first batch of footage from the sequel, which will probably arrive around the time Doctor Strange hits theaters in November.
In the meantime, just watch the Thor mockumentary that shows what the God of Thunder was up to during the events of Captain America: Civil War. Even if you've already seen it, just watch it again and have some laughs.