Former 'Mythbusters' Trio Reuniting On Netflix For 'White Rabbit Project' Series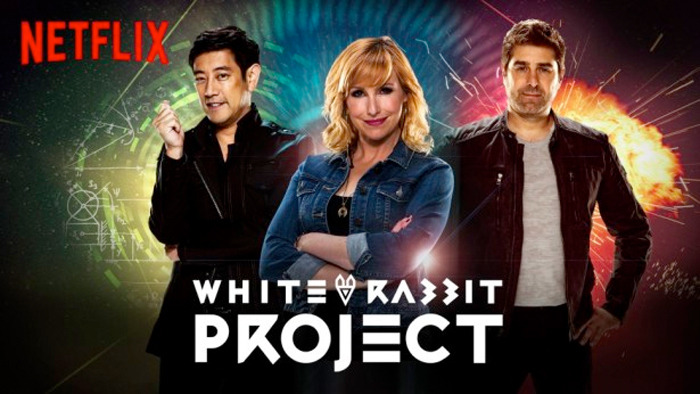 The long-running Discovery Channel science experiment show Mythbusters came to an end with its final season earlier this year. However, for the last run of the show, the series went back to its roots by bringing back only Adam Savage and Jamie Hyneman as hosts, leaving the trio of Kari Byron, Tory Belleci and Grant Imahara to move on to other things. Now we get to see what those three were up to while Savage and Hyneman wrapped up Mythbusters.
White Rabbit Project is a new unscripted series that brings back Kari Byron, Tory Belleci and Grant Imahara to the world of science, this time on Netflix. For those who were disappointed to see these three get left out of all the fun in the final season of Mythbusters, it sounds like this new show will share some similarities with their former TV gig. Find out what we know about White Rabbit Project after the jump.
The new show was announced at DragonCon this past weekend:
The build team is coming back together! @ToryBelleci, @KariByron, @grantimahara on a @netflix original: #TheWhiteRabbitProject coming Dec 9!

— 💐🌼Dragon Con 🌹🌺 (@DragonCon) September 3, 2016


Nerdist learned from one of their readers in attendance at the panel where this announcement was made that the new show was described as "Mythbusters in Wonderland." What does that mean? The trio will be tackling various subjects, experiments and more that you might encounter when you "go down the rabbit hole of the internet." Somehow, one of these journeys down the rabbit hole led to the creation of a clip where Tory and Kari are sitting at a table drinking some wine. But it's not just a normal date night, because Tory is strapped to some wires and Kari is trying to control his arm movements remotely somehow.Deadline has since learned some more details and they say the show features the trio investigating "weird and wonderful events from pop culture, science and history." This will include "jailbreaks, superpower technology, heists and crazy World War II weapons" and more. Much like Mythbusters, each episode will have the three conducting experiments, builds and tests to uncover the truth of a variety of internet-based themes.
Will Mytbusters fans be interested enough in seeing just this trio get their own show on Netflix? Since the original series isn't around anymore, this might serve as a decent substitute. After all, there aren't many science shows like this on the streaming service, or anywhere for that matter. Really this just sounds like Mythbusters 2.0, which is probably good news for fans. Maybe Adam Savage and Jamie Hyneman will even guest star from time to time.
White Rabbit Project will be available on Netflix starting December 9.