James Gunn Teases A Special Groot Version Of The 'Guardians Of The Galaxy 2' Script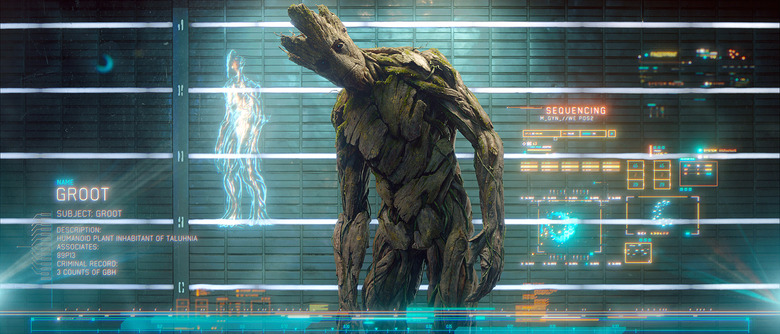 Getting ahold of the script for a high profile movie that hasn't hit theaters yet can be pretty difficult, especially when it comes to Marvel Studios movies. All of the scripts are watermarked with the  name of the person the script belongs to so that if it ever leaks to the public, Marvel knows who's to blame. And when it comes to a very special version of the Guardians of the Galaxy Vol. 2 script, there are only two people to blame if it leaks online.
Director James Gunn posted a photo to Instagram last night revealing this special version of the script that only he and Vin Diesel have. Why Vin Diesel? Because this version of the script pertains to a certain beloved tree character that he voices. Find out what's so special about this Guardians of the Galaxy 2 Groot script below.
A photo posted by James Gunn (@jamesgunn) on
No, this version of the script doesn't replace all of the dialogue with "I am Groot" (though that would be awesome), but this particular screenpaly is still very cool. We'll let James Gunn explain:
"This is the special Groot version of the script that only @vindiesel and I have, where every Groot line is printed in English instead of Groot, so Vin will know what the various "I am Groot"s mean. I love putting this thing together."
You wouldn't necessarily think that an entire script would be needed that explains what Groot's lines mean. After all, even though all his dialogue is replaced by "I am Groot," he doesn't speak very often. But maybe since we have a little Groot this time, he'll be a little more talkative. We'll likely never get to see this version of the script, because Groot's delivery of his limited vocabulary along with the reaction from those he talks to should be all audiences need to understand what he's saying. To know exactly what Groot is saying would probably make that dialogue a little less meaningful in a way.
In fact, that's what makes Vin Diesel's job even more challenging. With just a single line of dialogue, he has to convey feelings and what would likely be a much more complex sentence. That's why the actor delivered that line over 1,000 times in recording sessions for the first Guardians of the Galaxy, and he also had to do that in five different languages.
Apparently this script tease came about because James Gunn and Vin Diesel were hanging out yesterday with editor Fred Raskin. If you go to Vin Diesel's Facebook page, you can watch a video of Diesel reacting to footage from Guardians of the Galaxy Vol. 2. Gunn says that he's the only cast member to have seen the footage in question (we don't know what he saw), and Diesel has plenty of praise to deliver regarding what the director has created so far. He said:
"It's like seeing Santa Claus in September because you want Christmas to be tomorrow."
Diesel goes on to praise fellow cast members Chris Pratt, Dave Bautista, Zoe Saldana, Karen Gillan, Kurt Russell and Michael Rooker, with some additional praise from Gunn. It's a 12-minute video that you should definitely check out if you feel like you need to get even more pumped for Guardians of the Galaxy Vol. 2, which arrives on May 5, 2017.