'Nerve' Returns To Theaters For $5 A Ticket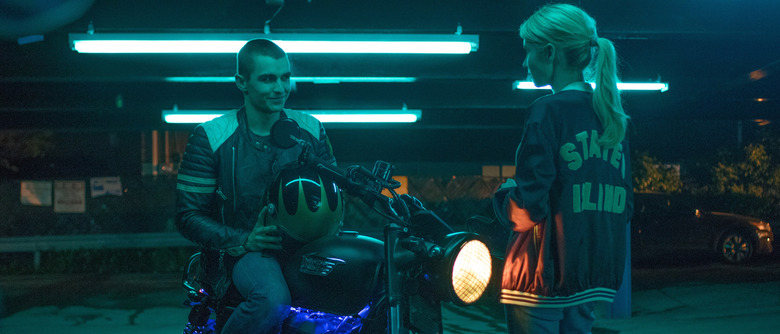 In terms of new releases, it's slim pickings out there this weekend. Oh sure, there are a couple of bigger films (Light Between Oceans and Morgan) and a handful of indies, plus some high-profile holdovers from earlier in the summer. But if none of those quite suit your fancy, how about revisiting a film you may have missed the first time around?
Lionsgate is putting its young adult thriller Nerve back into theaters across the country this weekend. You may remember it from its original July 27 release — it's the one starring Emma Roberts and Dave Franco as participants in an online game that's "like Truth or Dare, minus the Truth." But the really good news is that if you skipped it then and want to see it now, you'll be able to do so for just $5. 
Variety reports Lionsgate is teaming with mobile movie ticketing platform Atom Tickets for the Nerve promotion. You don't need to download the app to get the $5 price, although if you'd like to, the trade describes Atom Tickets as follows:
The Atom Tickets app is available for free on the Apple App Store and Google Play. It's touted as giving customers a hassle-free experience without paper tickets and providing the ability to discover new films, browse trailers, read reviews, invite friends, buy tickets and pre-order concessions. At the theater, consumers can go directly to the ushers and concession counters, where they scan a code at tablet kiosks.
I guess the partnership kinda makes sense because Nerve is tech-themed? In any case, the film will be in 600 theaters nationwide. And the $5 price seems to apply everywhere — even in my home city of New York, where movie tickets regularly cost three or four times that. Reviews on this one have been somewhat mixed, but for $5 and a slim 96 minutes, you can probably afford to take a bit of a risk. For what it's worth, our own Ethan Anderton says, "It's an exciting, fun, fast-paced caper through New York City with some compelling twists and turns. In a summer of disappointing blockbusters and sequels, it's a refreshingly entertaining ride."
On the other hand, if Nerve isn't your cup of tea, you've got plenty of other warmed over options this weekend. Also back in theaters are Ghostbusters and Finding Dory (the latter of which is looking to add to its already gargantuan $931 million take). Or if you want to go old school, AMC is holding screenings of Blazing Saddles and Willy Wonka and the Chocolate Factory at select theaters this weekend, in honor of Gene Wilder's recent passing.
Industrious high school senior, Vee Delmonico [Emma Roberts], has had it with living life on the sidelines. When pressured by friends to join the popular online game Nerve, Vee decides to sign up for just one dare in what seems like harmless fun. But as she finds herself caught up in the thrill of the adrenaline-fueled competition partnered with a mysterious stranger [Dave Franco], the game begins to take a sinister turn with increasingly dangerous acts, leading her into a high stakes finale that will determine her entire future.