VOTD: A Child's Imagination Comes To Life In This Wonderful 'Transformers' Short Film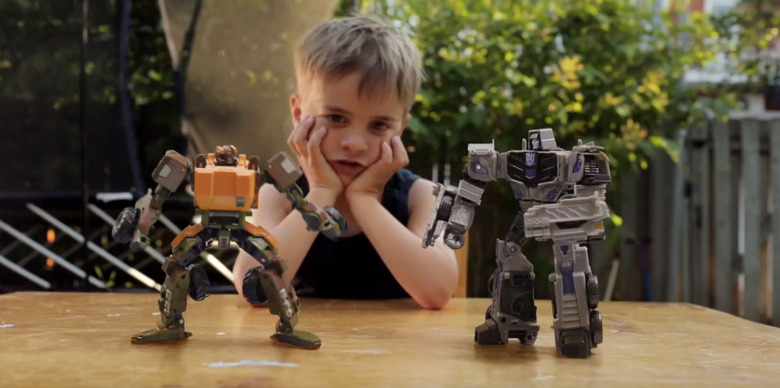 When it comes to the Transformers film franchise, we're really just watching Michael Bay play with an endless array of expensive toys and technology to bring his craziest visions to life. But wouldn't it be great if we could see a movie that brought to life the kind of cinematic battles that children imagine when they're playing with their action figures?
A new short from French Canadian filmmaker Patrick Bolvin does just that as he uses visual effects to bring some Transformers action figures to life as a child is making them battle on a table in the backyard. It's wonderful and I only wish it was longer. Watch the Transformers short film after the jump.
What I love about this shot is that the effects used to bring the Transformers to life still makes the action figures move only as the real toys would allow them to. Even the sounds of the Transformers when they move sound like the little plastic toys. It's not unlike what Phil Lord & Chris Miller did for The LEGO Movie.
Every now and then Michael Bay brings an action sequence to life that feels like it came straight from the minds of kids making their own battles in a movie theater, but most time he's just feeding into his own testosterone-fueled action playground whims. That can certainly be entertaining, but if I could watch a longer movie like this where the Transformers are controlled by the mind of a child, that would be just great.
In the meantime, we're still waiting until we're allowed to talk about our set visit to Transformers: The Last Knight. Hopefully that will be sooner than later, but we're not sure. Stay tuned.