The Toy Box: Rogue One Edition: LEGO Sets, Funko POP! Vinyls, Sideshow Collectibles & More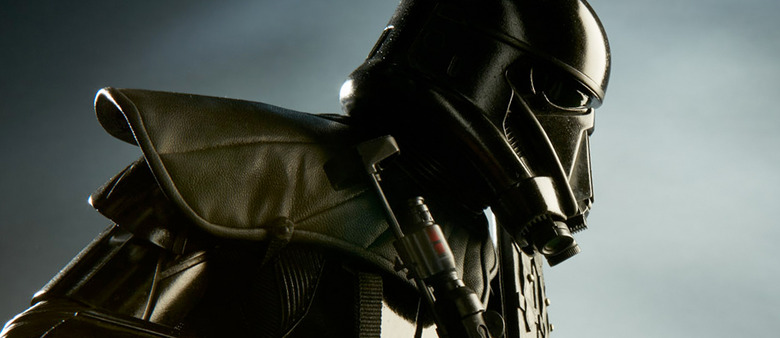 The Toy Box is a recurring feature at /Film that rounds up some of the newest and coolest collectibles, decorations, gadgets and other memorabilia that you nerds might want for your shelves.
Earlier this week, some of the new toys coming to shelves for Force Friday in honor of the forthcoming release of Rogue One: A Star Wars Story were revealed in a stop-motion short film produced by fans in conjunction with Disney and Lucasfilm. However, now the full toy lines that will be on shelves later this month have been unveiled with more LEGO sets, Funko POP! Vinyl figures, SH Figuarts figures, and more.
Check out all the Rogue One toys in this special edition of The Toy Box after the jump.
Tamashii Nations SH Figuarts Figures: Hover Tank Driver, Shoretrooper & More
On the higher quality end of new collectibles coming from Rogue One, Tamashii Nations has revealed some new figures in their SH Figuarts line. The previously unseen soldiers of the Empire include the Shoretrooper from the planet Scarif and a Hover Tank Driver coming in January 2017 and the sleek Death Trooper and the droid K-2SO coming in December this year.
There's no word on a price for these figures yet, but they're already listed at the official Tamashii Nations website, so stay tuned over there to get a price once they're available for pre-order.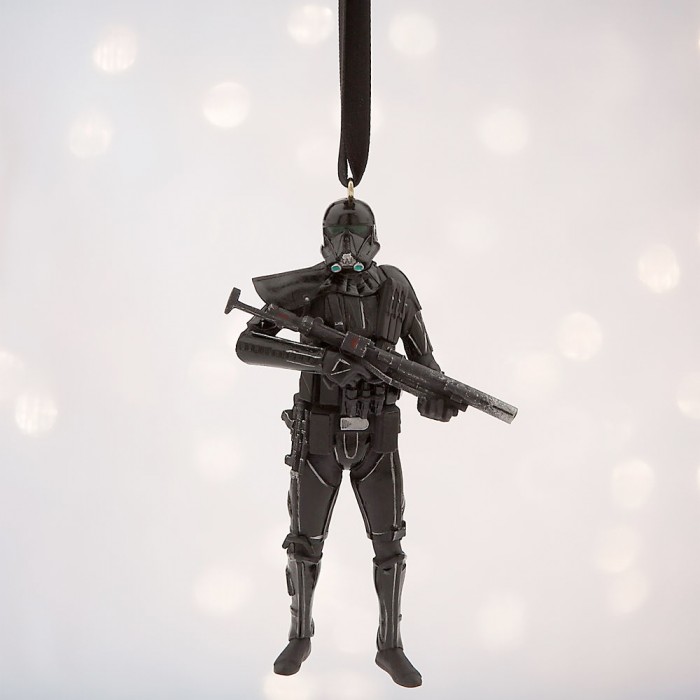 Death Trooper Ornament
A Death Trooper doesn't exactly sound like the best Christmas decoration, but there are plenty of geeky Christmas trees out there where this new ornament from Rogue One will fit in perfectly. The Death Trooper will be the most elite ornament on your tree, and you can add it to the rest of your ornaments on September 30th from The Disney Store. Just keep it safe until the holidays roll around unless you want to put up your tree super early.
Funko POP! Vinyl Collection: Jyn Erso, Director Krennic & More
It's a no-brainer that there will be a whole slew of new Funko POP! Vinyl figures on sale this month featuring the characters of Rogue One. In fact, some of the characters will have multiple variations. Jyn Erso has three different versions while Cassian Andor, the Death Trooper and Darth Vader all have a couple different versions. Some of these POP! Vinyls are exclusive to Hot Topic, Target, Wal-Mart, Game Stop and Walgreens, as evidenced by the stickers on some of the boxes.
All of the new Rogue One Funko POP! Vinyls will be available starting September 30th.
LEGO Sets: U-Wing, TIE Striker, Director Krennic's Imperial Shuttle & More
The Hollywood Reporter unveiled some of the new LEGO sets which will be on toy shelves at various stores starting on September 30th. The new sets include Director Krennic's Imperial Shuttle ($199.99), the Rebel U-Wing Fighter ($99.99), the Imperial TIE Striker ($89.99), the Imperial Assault Hover Tank ($29.99) and Imperial AT-ST Walker ($39.99).
As you can see, each of the sets come with various LEGO minifigures including Jyn Erso, Cassian Andor, K-2SO, Baze Malbus, Chirrut Imwe and more.
Sideshow Collectibles Death Trooper
Of course Sideshow Collectibles is going to get in on the Rogue One: A Star Wars Story action. The premium format figure will stand over 21 inches tall and comes with armor that sits atop a detailed body suit and is accented by a fabric tactical chest rig that holds sculpted grenades and other accessories like a thermal detonator. The solider will also come with a blaster and side arm blaster pistol. If you get the Sideshow exclusive version, you'll also get a long-range blaster rifle.
This is just the first in Sideshow's Rogue One figure line, however, you'll be waiting a long time before you get your hands on this one. You can pre-order it now for$549.99, but it wont ship until December 2017 at the earliest, February 2018 at the latest. We'll have seen Star Wars: Episode VIII by then!
***
That's all for The Toy Box for now. If you're looking for some superhero goodies and other memorabilia, be sure to check out the third page of Superhero Bits or our recurring Cool Stuff articles.
Read the previous edition of The Toy Box right here.