'Pitch Perfect 3' Recruits 'Step Up: All In' Director Trish Sie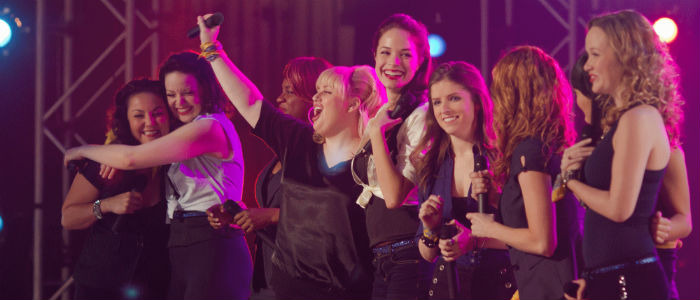 The Barden Bellas have found a new leader. Trish Sie has just been confirmed to direct Pitch Perfect 3, three months after Elizabeth Banks, who'd directed Pitch Perfect 2, stepped down from the helming gig. Sie's last feature was 2014's Step Up: All In, but she might be even better known for her amazing music videos with OK Go including "Here It Goes Again" and "Upside Down & Inside Out." 
Banks and Sie shared the happy news on Twitter.
#PitchPerfect has a new leader – so excited @bigbadtrish is directing #PP3! pic.twitter.com/KRbTv5oBsi

— Elizabeth Banks (@ElizabethBanks) September 1, 2016
Is there a word to express a thrill this big? I GET 2 DIRECT #PitchPerfect3! It's like Xmas, 4th of July & my bday all at once, only better!

— Trish Sie (@bigbadtrish) September 1, 2016
Conversations about Pitch Perfect 3 were already underway before Pitch Perfect 2 even opened. And when Pitch Perfect 2 finally did open, it grossed nearly ten times its $29 million budget, making a sequel a sure thing. However, it hasn't all been smooth sailing. Universal originally penciled in a summer 2017 release date for Pitch Perfect 3, and announced last fall that Banks would direct. But earlier this summer, Banks dropped out and the film was delayed by several months to December 22, 2017.
Banks remains on board as a producer and will reprise her role as a cappella commentator Gail. Also back are stars Anna Kendrick, Rebel Wilson, and Brittany Snow, as well as screenwriter Kay Cannon, who scripted both of the earlier films. Paul Brooks and Scott Niemeyer are producing.
At this point, I'm not sure what story is left to tell about the old Barden Bellas. Pitch Perfect 2 already felt like a retread of the original Pitch Perfect in a lot of ways, and the story had to bend over backward to bring back some of the characters who'd already graduated. Emily (Hailee Steinfeld) seemed positioned to step up as the franchise's new lead, but with all the other stuff going on in the movie, she barely even made an impression.
That said, if the show must go on, Sie seems like a promising choice to take over as director. She's a dancer, choreographer, and filmmaker who attracted widespread attention for her music videos and commercials, particularly her work with OK Go. You've definitely seen that treadmill video:
And you've probably also seen the zero gravity one:
Sie's first and only feature so far is 2014's Step Up: All In, an otherwise tedious movie that contains some really impressive dance sequences.
So if nothing else, we can at least expect some showstopping musical numbers from Pitch Perfect 3. Hopefully the rest of the film will be up to snuff as well.